Erected by William the Conqueror in the 11th century, this former political prison and place of execution has long been viewed as one of the most haunted buildings in the British Isles. Among the ghosts flitting through the fortress are the spirits of Anne Boleyn, the wife of Henry VIII, who was beheaded in 1536; Lady Jane Grey, who was spotted by a guardsman on Feb. 12, 1957, on the 403rd anniversary of her death; and Sir Walter Raleigh. The first ghost allegedly spotted in the building was Thomas Beckett's, in the 13th century.
Read more:
http://www.time.com/time/specials/packages/article/0,28804,1855221_1855285_1855248,00.html
#ixzz1j5an60Ks[[File: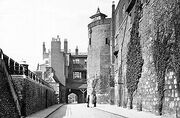 Example.jpg]]
Ad blocker interference detected!
Wikia is a free-to-use site that makes money from advertising. We have a modified experience for viewers using ad blockers

Wikia is not accessible if you've made further modifications. Remove the custom ad blocker rule(s) and the page will load as expected.