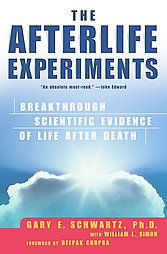 Template:Infobox Book

The Afterlife Experiments (full title: The Afterlife Experiments: Breakthrough Scientific Evidence of Life After Death) is a book written by Gary Schwartz and William L. Simon, with a foreword by Deepak Chopra.[1]

The book contains four reports detailing a series of experiments that utilized mediums and sitters to investigate whether or not there is life after death.

The psychologist Ray Hyman published a detailed criticism of Schwartz's techniques, titled "How Not to Test Mediums".[2] Schwartz responded to the critique,[3] which led to Hyman publishing a rebuttal.[4]
References
Edit
Template:Paranormal-stub
Ad blocker interference detected!
Wikia is a free-to-use site that makes money from advertising. We have a modified experience for viewers using ad blockers

Wikia is not accessible if you've made further modifications. Remove the custom ad blocker rule(s) and the page will load as expected.