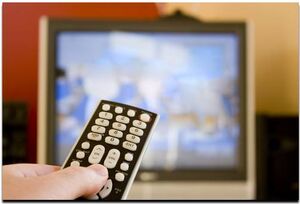 Paranormal television is a genre of popular reality television programming. Its scope comprises purportedly factual investigations of paranormal phenomena, rather than fictional representations found in such shows as The Ghosts of Motley Hall and Ghostbusters, or cartoon/children's series such as Scooby Doo and Rentaghost.
Accounts of supernatural occurrences have always been common in the print media. The 1705 pamphlet "A True Relation of the Apparition of One Mrs Veal" by Daniel Defoe is a well known example. Local TV news programs in the UK and USA have featured ghost stories since the 1960s. Paranormal television arose from this tradition.

One of the earliest paranormal TV shows was In Search Of..., hosted by Leonard Nimoy which ran for six years from 1976. Rod Serling was originally slated to host the series until his death in 1975. In Search Of... explored many paranormal topics, including UFOs, cryptozoological creatures (cryptids), lost civilizations, and other mysteries. Though the subject matter gradually lost popularity, the show gave way to future TV series following the same genre.

Ghostwatch, a fictional news broadcast about a haunted house in the UK that aired in 1992, created controversy when a majority of viewers believed the televised show was real.
Discovery Channel started to explore the genre with some success from 1996. The Fox Broadcasting Company had a news-style oriented show, Sightings, that was hosted by Tim White (newscaster/reporter) and this show lasted for six years. MTV's Fear premiered in 2000, establishing the visual look and editing style followed by most paranormal reality television show. In 2002, the British satellite channel LivingTV launched the ghost hunting series Most Haunted. Its success helped spawn other shows on the channel, including Dead Famous and Jane Goldman Investigates, and the channel developed a distinctive identity based on paranormal programming. The production company responsible for these programs, Antix, also produced two series of Spook School which followed the investigators of Para-Projects as they teach members of the public how to become paranormal investigators themselves.

Other notable shows include Creepy Canada, Proof Positive, America's Haunted Hotels, Ghost Hunters (not to be confused with the earlier European Ghosthunters), Ghost Adventures, and A Haunting. YTV, a Canadian youth-oriented station, has a more toned-down version of similar programming called Mystery Hunters.

Noting the recent trend in reality shows that take the paranormal at face value, New York Times Culture editor Mike Hale characterized Ghost Hunting shows as "pure theater" and compared the genre to professional wrestling or soft core pornography for its formulaic, teasing approach.
LA Times staff writer Ed Stockly wrote that "the paranormal/supernatural-investigation subgenre that has cropped up on cable television over the last few years, which includes Ghost Hunters, Destination Truth, Ghost Adventures, Ghost Hunters International and a few others" promises to "take a skeptical approach in its investigations and to rely on science to confirm or disprove paranormal claims. So far not one has been able to consistently keep that promise."
Examples of notable programs
Edit
Program
Original Run Years (Premiere–Finale)
Original Channel/Network
6ixth Sense with Colin Fry
2002
Living TV (UK)
Ancient Mysteries
1994 - 1998
A&E
The Antiques Ghost Show
2003
Living TV (UK)
Arthur C. Clarke's Mysterious World
1980
ITV
Arthur C. Clarke's Mysterious Universe
1995
ITV
Arthur C. Clarke's World of Strange Powers
1985
ITV
America's Haunted Castles
2005
Travel Channel
Beyond
2005
n/a (Canada)
Creepy Canada
2002–2006
n/a (Canada)
Celebrity Ghost Stories
2009–present
Biography Channel
Crossing Over with John Edward
1999–2004
SyFy
Dead Famous
2004–2006
n/a
Derek Acorah's Ghost Towns
2005
Living TV (UK), Travel Channel
Destination Truth
2007–present
Syfy
Encounters: The Hidden Truth
1991
Fox Network
Extreme Paranormal
2009
A&E Network
Extreme Ghost Stories
2006–2007
ITV1 (UK) WE (US)
Exploring the Unknown
1999
Saban Entertainment, Fox Kids
Fact or Faked: Paranormal Files
2009–present
Syfy
Fenómeno
2000
RTP2, Mínima Ideia (Portugal)
Fortean TV
1997–1998
Channel 4
Ghost Adventures
2008–present
Travel Channel
Ghost Hunters
2004–present
Syfy
Ghost Hunters Academy
2009–2010
Syfy
Ghost Hunters International
2007–present
Syfy
Ghost Lab
2009–2011
Discovery Channel
Ghost Stories
1997–1998
FOX Family
Ghost Stories
2009–present
Travel Channel
Ghost Story
2006
(UK)
Ghost Trackers
2006
YTV
Ghost Whisperer
2005–2010
CBS
Ghosthunters
1996
Discovery Channel Europe
Ghostly Encounters
2009–present
Viva/W Network (Canada), A&E Network, Biography Channel
The Girly Ghosthunters
2005
n/a (Canada)
The Haunted
2009-present
Animal Planet
Haunted Houses: Tortured Souls & Restless Spirits
2005
Biography Channel
Haunted History
1998–2008
History Channel, Biography Channel
Haunted Homes
2006
ITV
Haunted Hotels
2002-2006
Travel Channel
Haunted Lighthouses of America
2006
Travel Channel
A Haunting
2005–2007
Discovery Channel
Haunting Evidence
2006
TruTV
I'm Famous and Frightened!
2004
n/a
In Search Of...
1976–1982
n/a
Investigations of the Unexplained
2007
Travel Channel
James Randi: Psychic Investigator
1991
n/a
Jane Goldman Investigates
2003
Living TV
Most Haunted
2002–2010
Living TV (UK), Paranormal Channel (UK), Travel Channel
Most Haunted Live!
2002
Living TV (UK), Paranormal Channel (UK), Travel Channel
Most Terrifying Places in America
2008–present
Travel Channel
MTV's Fear
2000–2002
MTV
My Ghost Story
2010–present
Biography Channel
Mystery Hunters
2002–2006
Discovery Networks, YTV
Nachtwakers
2011–present
RTV Oost (Netherlands)
One Step Beyond
1959–1961
n/a
The Othersiders
2009
Cartoon Network
Paranormal?
2005
National Geographic Channel
Paranormal Challenge
2011
Travel Channel
Paranormal Cops
2010
A&E Network
Paranormal State
2006–present
A&E Network
Paranormal State: The New Class
2010-present
A&E Network
Paranormal Witness
2011-present
Syfy
Proof Positive
2004
Syfy
Psi Factor: Chronicles of the Paranormal
1996–2000
n/a (Canada)
Psychic Detectives with Tony Stockwell
 ?
n/a
Psychic Kids
2009–present
Biography Channel
Psychic Witness
2005
Discovery Channel
Scared!
2002
n/a
Scariest Places on Earth
2001–2006
ABC Family
Scary...But True
2001
Syfy, YTV, Chiller
Scream Team
2002
Living TV
Sightings
1992–1997
Fox Network, Syfy, syndicated television
The Sleep of Reason with Steve Bell
2007
Studio Universal
Spook School
2007–2008
Unexplained Channel, Antix Productions
Strange But True?
1993
n/a
Strange Universe
1996
UPN, syndicated television
Truth or Scare
2001–2003
Discovery Kids, The Hub
The Unexplained
2009
Biography Channel
The UneXplained
2011
Biography Channel
UFO Abductions
1991
n/a
Unexplained Canada
2006
Space
Unexplained Mysteries
2003
syndicated television
Unsolved Mysteries
1987
1997
2001
NBC
CBS
Lifetime
Weird Travels
2003–2006
Travel Channel
World's Scariest Ghosts Caught on Tape
1990s
ABC
References
Edit
Ad blocker interference detected!
Wikia is a free-to-use site that makes money from advertising. We have a modified experience for viewers using ad blockers

Wikia is not accessible if you've made further modifications. Remove the custom ad blocker rule(s) and the page will load as expected.