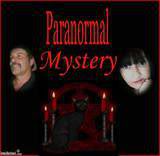 We are a 2 person paranormal team with 30 years experience each and will be moving our team to Newbedford, Massachusetts next month in February of 2012. My name is Tracy Xifaras aka Mysteryx and the other half of the team is Joe Morancie aka Joe Paranormal, we have been around the paranormal since childhood and have done private investigations and also open investigations with many different teams. We are also former owners of the Jacksonville Ghost hunters from Jacksonville Florida and have recently moved and turned it over to our members. Joe Morancie has also done many demonic cases and malevolent cases as well and is usually called in by other investigators when those types of cases arrive. when we get situated in massachusetts we will leave contact numbers for anyone who needs any help with paranormal activity and will revise it here.
Ad blocker interference detected!
Wikia is a free-to-use site that makes money from advertising. We have a modified experience for viewers using ad blockers

Wikia is not accessible if you've made further modifications. Remove the custom ad blocker rule(s) and the page will load as expected.