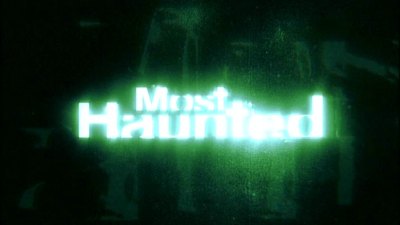 Template:Use dmy dates Template:Use British English Template:Cleanup Template:Refimprove Template:Infobox Television

Most Haunted is a British paranormal documentary reality television series. The series was first shown on 25 May 2002 and ended on 21 July 2010. It was broadcast on Living and presented by Yvette Fielding. The programme was based on investigating purported paranormal activity. It is shown on the satellite and cable channels Living, Livingit and Channel One (Formerly Virgin 1 and Ftn), primarily for the UK market. It is also shown in the United States on the Travel Channel, on the W Channel in Australia and Canada, TV4 Plus in Sweden, FEM in Norway, TV ONE and Vibe in New Zealand, Sub in Finland, Stöð 2 in Iceland and Star World in Asia. It is produced by Antix Productions, led by Yvette Fielding and her husband, Karl Beattie.

On 12 August 2011 it was announced that Sky Living had officially axed Most Haunted and have returned the rights to the show to Yvette Fielding and Karl Beattie. On his Facebook page Karl Beattie has said that he and Fielding will be approaching other broadcasters with the show in a bid to bring it back.
Production
Edit
The Most Haunted team have travelled not only around the UK, but also Ireland, the Netherlands, Romania, the United States, and Italy. investigating paranormal activity for 24 hours at a time.
Photography
Edit
The photographic style of the series has changed considerably since series 1. In the first series many elaborate shots were set up with an almost "theatrical" style, with illuminated windows and dry ice. Locations were often illuminated outside at night time, with blue and green colours. There was a high emphasis on quality production. From series 1-3 there was extensive use of the steadicam, which provided gliding shots during Yvette's ghostly tales or for general views. In series 8 the team introduced a camera crane or 'jib' system for elaborate aerial shots of both Yvette and the locations. Most of the photography in Most Haunted focuses on 'general views' also known as 'GV's' of a location and its surroundings. Most Haunted is filmed with both broadcast Sony DSR-570WSP & DSR-PD170P DVCAM cameras and Sony DCR-PC9E miniDV cameras. A Thermal Imaging camera is also used to detect & highlight cold & warm spots. The style of the series changed somewhat after series five, losing its Most Haunted grungy look and it became much more mainstream.
Most Haunted's music was originally composed by Alan Clark, using loops and samples from the Spectrasonics sample libraries Distorted Reality, Metamorphosis and Biazzare Guitar (particularly in the earlier series). As of series 12, the original music has almost been completely supplanted by stock music which was also used on the now defunctUnexplained Channel programme, Rest In Peace.
Sister shows
Edit
Most Haunted: The Next GenerationEdit
Announced in November 2011, Most Haunted's new series will begin airing in 2012 under a new title.
Most Haunted Live!Edit
Main article: Most Haunted Live!
Most Haunted: Midsummer MurdersEdit
Main article: Most Haunted: Midsummer Murders
Originally intended to be Most Haunted Series 10, Most Haunted: Midsummer Murders was an eight part series where Most Haunted investigators attempted to solve murder mysteries in normal English villages. It was hosted by Most Haunted historian Lesley Smith. The series commenced on a weekly broadcast from 19 June 2007 to 31 July 2007 and the team visited (in order of broadcast) Stoney Middleton, Nantwich, Castleton, Pluckley, Ruthin, Tutbury, Tarvin, and Bakewell. An episode, shot in Lymm Village, saw the team investigate a suspect of Jack the Ripper. This episode was not aired on television.Template:Citation needed
Most Haunted: Recurring NightmaresEdit
In Most Haunted: Recurring Nightmares, the presenters recall their most frightening visits.
Most Haunted USAEdit
Most Haunted USA was an eight-part mini-series that aired on the American Travel Channel from 12 December 2008 to 30 January 2009. The series has also aired in the UK and includes the team's investigation at the famous Waverly Hills Sanitorium in Kentucky.Template:Citation needed It aired as part of Series 11 in the UK.
Most Haunted: The Live SeriesEdit
In January 2010, Most Haunted returned for a spin-off of the live shows. These episodes differed from the previous live shows in that they were more like a series investigation, but broadcast live. The series was broadcast live every Saturday night and ran for 8 weeks, with each episode lasting two hours.
Most Haunted featured a main presenter, a historian, a psychic medium and a parapsychologist. Essentially the latter two are intended to create an even balance between paranormal and scientific explanations for the various phenomena that occur. Any information provided by the medium from claimed interactions with spirits is then analysed by the historian to see if it can be verified. The core investigation team are supported by some of the production crew, who appear in the show and are generally involved with the investigation whilst performing their normal crew role. Most of these on-screen crew members also take part in séances.

The show has also featured guest mediums. So far these have been Ian Lawman, Ian Shillito, Gordon Smith, Uri Geller, Kevin Wade, Johnnie Fiori, Brian Shepherd, Billy Roberts and Patrick Matthews. Some episodes have also included at least one celebrity. So far the 'celebrity' episodes have included Vic Reeves, Nancy Sorrell, Gaby Roslin, Scott Mills, Mark Chapman, Simon Gregson, Sue Cleaver, Carol Thatcher, Paul O'Grady and Lee Ryan. For the series 10 episode from Coalhouse Fort the team were joined by Scottish paranormal investigator Ryan O'Neil.
Former team members
Edit
Derek Acorah: 2002 - 2005

David Wells: 2004 - 2007

Gordon Smith: 2005 - 2006

Brian Shepherd: 2004 - 2005, 2008 - 2009

Chris Conway: 2009 - 2010

Ciaran O'Keeffe: 2003 - 2010

Richard Felix: 2002, 2003 - 2006

Lesley Smith: 2003, 2006 - 2009, 2010
Main article: List of Most Haunted episodes
Time slot
Edit
Series 1: Tuesday, 9.00pm - 9.30pm Series 2 - Series 13: Tuesday, 9.00pm - 10.00pm Series 14: Wednesday, 10.00pm
Series 1-3
Edit
The first series began on 25 May 2002. Each episode had a duration of thirty minutes. However, reruns of these episodes have been re-edited to the full hour and titled Most Haunted Unseen. Added footage in these episodes is shown with a caption in the corner to distinguish it from the original version. The series concluded with an investigation of Michelham Priory on 17 September 2002, which was coincidentally the first episode to be produced. In the eighth series the team revisited this location to mark the 100th episode. During the break in series, the team aired three live investigations, the third of which led into the second series on 8 April 2003. From this point onwards episodes were accompanied by a supplemental Most Haunted Extra. At this point, Extra was available as a ten-minute feature after the main show, accessible to viewers via the red button. For Series two and three, Phil Whyman joined the show as a paranormal investigator, replacing the original investigator Jason Karl and guest investigators David Scanlan and Vicki Purewal who decided not to continue with the team, who left at the end of the first series. The show remained unchanged at this point until Series 4.
Series 4-6
Edit
The fourth series commenced on 23 March 2004 with an investigation of Owlpen Manor. Most Haunted Extra became a thirty-minute programme, broadcast for half an hour after the main show on LivingTV. This series was the first series in which guest mediums joined the team during the investigations. This took some of the pressure off Derek Acorah who had been the only medium in the first three series. The main guest mediums involved during this series were Brian Shepherd, David Wells and Ian Lawman.

Series five commenced on 14 September 2004. It was preceded by a 3 night Most Haunted Live! investigation advertised as a countdown to the series. Phil Whyman was replaced with (although he recently returned on the Live shows as a studio expert), then semi-regular, Ciarán O'Keeffe. Originally O'Keeffe viewed the footage recorded during the investigations and analysed it, putting forward his own views and opinions, which usually included suggestions as to other possible causes for the phenomena encountered. He shared this role with colleague Matthew Smith who frequently attended the early Most Haunted Live events. Following the departure of Phil Whyman after Series 4, O'Keeffe began to join the team on location. Yvette's brother Rick Fielding also left the show at the end of Series 4.
For series six, beginning on 22 March 2005 with an investigation of Bodmin Gaol, David Wells became a main medium alongside Derek Acorah appearing in every episode. The programme featuring Arreton Manor[1] included what was said to be the ghost of an 8-year old girl named Annabelle Leigh who, in 1560, witnessed her oldest brother smothering their dying father Barnaby so he would quickly inherit the property.[2] The brother, after killing the father, was reputed to have strangled his sister and thrown her out of the window. Many sightings of a face at the window have been reported from the grounds when nobody was known to have been in that room. The Most Haunted team apparently came into contact with the girl who could be heard knocking in reply to their questions surrounding her death and whose presence could be felt.[2]

Medium Derek Acorah claims to have picked up on the ghost of a tall, robust woman named Ami Tetchnut who had links with The Hague and that of a very tall, gaunt man named Edward Bryan or Bryant who was knocked unconscious in the entranceway and taken away.[2] Medium David Wells also claims to have detected the presence of a pompous man named Henry and hard knocking on the front door from people who wanted him out; this heavy knocking has been reported by many others. While investigating the hallway, the Most Haunted team apparently witnessed the throwing of a book ironically about the ghosts of the Isle of Wight which Wells claims to have been thrown by Henry who had laughed at them.[2] Historian Richard Felix claims to have looked at the book earlier and it had been one of three on the mantlepiece but has no explanation of how it was thrown.[2] Acorah claims that one of the rooms was used as a courtroom which had a poor sense of true justice and often innocent captives would be sent to the cellar from the courtroom, which was used as a brutal torture chamber.[2]

Some other paranormal activities reported and examined relate to "a girl with fair hair calling for her mother, a lady in a purple dress, a lady in a red dress with puffy sleeves, apparitions of a black dog; monks in the dining room, in the old monks quarters kneeling and praying, and in the gardens; and a lady in a white dress gliding across the four-poster bedroom before disappearing out of the window." Cupboard doors opening on their own, doors being bolted and orderly stacking of the towels on the floors have been reported.[1]

This was Derek Acorah's last Most Haunted series owing to controversy he was involved in during its production which cast a doubt on his ability to perform his role.[3] As such he did not appear in the final episode at Sinai House. The number of episodes for Series 6 was originally intended to be eighteen, with the last eleven being part of Series 7. Due to Acorah's departure the series was extended. This was the first series in which the team conducted 24 hour investigations over in the USA. Derek didn't return for the shows finale at Sinai House, when David wells was the main medium. Series 6 also marked a change in the production of Most Haunted. Editing and post production moved from 422 Manchester to Antix own production facilities. This resulted in the loss of the original editor of the series, as well as a large number of film effects which were used, changing the visual style of the show considerably.
Series 7-9
Edit
The seventh series began on 1 November 2005 yet only ran for six weeks, shortened from an intended nine. Two of the final three episodes (at Bamburgh Castle and Chambercombe Manor) were broadcast at the end of Series 8 and the last, at Spitbank Fort, was broadcast as special on Boxing Day 2006. Parapsychologist Louie Savva a regular on the Most Haunted Live! events joined the team for a few of the investigations in this series covering shows which O'Keeffe was unable to take part in.

Series eight began on 27 June 2006 with the 100th investigation and a revisit to Michelham Priory. It marked the last appearance of Richard Felix as resident historian. He was not replaced until the tenth series. This series featured guest mediums Gordon Smith, Ian Lawman, Ian Shillito and Kevin Wade.

An investigation of South Stack Lighthouse began the ninth series on 2 January 2007. Four episodes into the series, new episodes became known as New Most Haunted in television listings and on-screen. This is the last series of Most Haunted where Most Haunted Extra accompanied each episode. After the first few episodes, Extra was moved to Living2. Most Haunted Extra last appeared accompanying Most Haunted: Midsummer Murders. This was the last series to feature David Wells as a regular medium on the show.
Series 10
Edit
The tenth series of Most Haunted began on 19 February 2008 and came to a close at the end of April. [4] This series featured three psychic mediums: Johnnie Fiori, Barrie John and Brian Shepherd. Lesley Smith replaced Richard Felix as resident historian on the recorded shows and travelled with the team to each location. The team were also joined by Scottish paranormal investigator Ryan O'Neill, a guest on episodes 1&2 of series 10 at Coalhouse Fort. In the Coalhous Fort episodes of the show, an American psychic joined the team and claimed to have encountered the spirits of a bespectacled old man and his "gawky" son in the museum of the fort, who had been responsible for compiling the collection.[2] The team allegedly picked up the voice and moaning from the old man later in the night.[2] The psychic also claimed that there were spirits of animals in the fort, perhaps from horses who had been involved in its construction and claimed to have encountered the spirit of a pilot named Jeff and other air force men around the fort who had been there during World War I.[2] She also claimed that in one area of the fort she picked up macabre images of debauchery and sodomy where sexual favours were performed in return for food and money, also from World War I.[2] The team also apparently picked up countless examples of poltergeist activity in the fort with the unexplained throwing of stones, knocking and the occasional moaning, responses from taunts by the team for the ghosts to make their presence known.[2]
Series 11, 12 (USA) & 13
Edit
When series 11 was aired, Living merged Season 12 to series 11 to make it a longer season. Series 13 was aired, and featured 10 episodes including Speke Hall.
Series 14
Edit
Series 14 started in late May 2010, with an investigation into Berkeley Castle starting on 12 May 2010 and continue to show every Wednesday on Living at 22:00 BST. The series ended on Wednesday 21 July 2010.

Series 14 was the last series of Most Haunted to air.
2011 Special
Edit
A new episode of Most Haunted will be released on DVD on 12 December 2011. It is unknown where the episode has been filmed from.
Lost episodes
Edit
During Most Haunted's run, there have been a few episodes which have been broadcast out of order than they have filmed and a few series which were changed to accompany the run on Living.

Series 6 ran for 29 episodes but was originally intended to run for 18 episodes. The original series 7 was intended to be a 17 episode series but due to Derek Acorah's departure, series 6 was extended with the first 11 episodes of series 7 added on. The last 6 episodes of series 7 were filmed without Acorah and with Gordon Smith.

Original Series 7 Episode List
Bolling Hall
Elvaston Castle
Smithills Hall
Peterborough Museum
Tissington Hall
Hellens Manor
Tretower Castle
Sinai House
Lower Southwood Cottages
Castle Keep
Woodchester Mansion
Coronation Street
The Old Church House
Mains Hall
American Legion
Leonis Adobe House
Wilmington Drum Barracks

After the first 11 episodes of the original series 7 were added to series 6, series 7 became a 6 episode series.

During the Most Haunted spin off series Midsummer Murders, the team filmed a 9 part series. However only 8 were ever aired. The 9th episode, filmed in Lymm Village and featuring a Jack the Ripper suspect, was never aired.

Series 10 was due to be a 20 part UK series but was made an 11 episode series after LIVING shelved the remaining 9 episodes for series 11, which was made up of the filmed UK episodes.
Missing 10th series
Edit
Production of series 10 and 11 happened back to back, with the team visiting 45 locations to be split over the 2 series series. However, after filming 24 episodes with David Wells who then decided to quit, Antix Productions decided to cut out these episodes, film the remaining 20 episodes and split them over the series.

The 24 missing episodes still exist and are due for a DVD release in 2011 (www.antixproductions.com). The locations include RAF Coleby Grange, Buchanan Castle, Duxford Imperial War Museum, Lanwith Old Hall and Lindisdarne Castle. Return visits are conducted in Stockport Workhouse, Woodchester Mansion and The Clock House.
Main mediums
Edit
For the most of the show a medium accompanied the team on their investigations. The mediums are as follows:
Derek Acorah (Series 1 - Series 6: 2002-2005)
David Wells (Series 4 - Series 9 & Midsummer Murders: 2004-2007)
Gordon Smith (Series 7 - Series 8: 2005-2006)
Brian Shepherd (Series 10 - Series 12: 2008-2009)
Chris Conway (Series 13 - Series 14 & Live Series: 2009-2010)
Controversy
Edit
On several occasions the former Spiritualist medium Derek Acorah was supposedly possessed by an entity, sometimes evil or sometimes "lost and confused". Two such cases exposed Acorah. Before the filming, Acorah had been fed misinformation twice about the non-existent ghosts of Kreed Kafer and Rik Eedles by the show parapsychologist Dr. Ciaran O' Keeffe. During the investigations, later broadcast, he presented the information as fact and even behaved as though being possessed by the fictional ghosts. O'Keeffe later revealed in the Daily Mirror that Kreed Kafer and Rik Eedles were anagrams of 'Derek Faker' and 'Derek Lies'.[3] Even though O' Keeffe exposed Acorah, the paper also claimed that O'Keeffe had exposed the rest of the Most Haunted team. O'Keeffe later reported that he had been grossly misquoted and misrepresented in the article, and produced a response outlining his version of the show based on his observations and findings, saying he had exposed Derek Acorah and not the entirety of Most Haunted. The show's presenter and executive producer, Yvette Fielding said in an interview that she believes it was a fake possession.[5]

Although not mentioned by O'Keeffe, the Mirror article also brought into question unedited footage which appeared to show Fielding and Karl Beattie faking 'paranormal' occurrences such as ghostly bumps and knocks. Fielding denied the claims.[3]

Further controversy centred on Derek Acorah again in the West Country, this time in Devon. On the first night filming "Terror in Torbay", Acorah mentioned a woman incarcerated by her jealous sister in the cellar of Lupton House, even coming up with the names Margaret and Eleanor. In this case, the facts were right, but the location was wrong. This is the well-known legend of Berry Pomeroy Castle which was to be the last night's location. On the final night, at Berry Pomeroy, Fielding reminded Acorah that he had mentioned the incarcerated sister two nights prior. Acorah glossed over his mistake and changed the subject.

There have been many viewer complaints about the show to the Television Regulator in the UK, Ofcom. Ofcom described the show as one "where techniques are used which mean the audience is not necessarily in full possession of the facts". Ofcom ruled that this was not fraud because Most Haunted is an entertainment show, not a legitimate investigation into the paranormal, and should not be taken seriously.[6]
The Future of Most HauntedEdit
On 25 June 2010, Yvette Fielding announced via the Antix Productions website that she is to step down as presenter of the show.[7]

After Yvette's announcement, Living's channel controller Claudia Rosencrantz has said "Most Haunted has given us three incredible years with these live strips. This year it sort of felt it had reached the end of its reign - not that we won't revisit it."[8]

On 10 September 2010, Living announced a new show that is to replace Most Haunted called Paranormal Investigation: Live.[9] This announcement brings to a close the series of Most Haunted on Living.

On 12 August 2011, Karl Beattie announced via his Facebook profile; 'Hi Guys Just wanted to give you the official news. SkyLiving has decided not to re-commission MH which is sad news, however, we have been given our rights back, so we can go to other broadcasters with it. I think that a new home and better investigation techniques will move MH into the next phase making it bigger and better than ever. We are very excited about MH's future, so onwards and upwards my paranormal friends. xx'

On 27 October 2011, Karl Beattie announced via his Facebook profile; Unfortunately we didn't have enough time to get a programme sorted for halloween, getting all the rights back took much longer than first thought. But we are back now, next year we will be looking to go bigger and better than ever before and we will take halloween back. We are about to sign a very exciting deal with a very large company to take Most Haunted to the next level. So watch this space. And thanks for all of your support and undying loyalty, which in this industry is a very rare thing indeed, thank you all it means so much.

On 12th December 2011, a direct to dvd special entitled Most Haunted Christmas spirits is to be released featuring a brand new and unseen investigation. A facebook page entitled Most Haunted The Next Generation has hinted greatly at Most Haunted's return in 2012,Join Now.
References and notes
Edit
External links
Edit

Template:Ghostssimple:Most Haunted fi:Riivatut talot sv:Hemsökta hus (TV-serie)