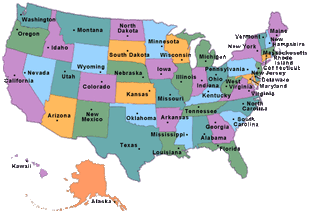 There are numerous reportedly haunted locations in the
United States
. This list alphabetically sorts these places by state and then alphabetically within each state.
At the Bird Cage Theatre in Tombstone, there have been reports of ghostly laughter, yelling, and strange music. These reports date back to the 1880s. It was investigated on the TV series Ghost Adventures.[1] It was also investigated by TAPS on Ghost Hunters.
The Copper Queen Hotel in Bisbee "is haunted, or at least that is what the owners claim and what numerous guests have affirmed over the years with stories about mysterious voices, odd sounds and smells, and even levitating objects."[2]
The Vulture Mine near Wickenburg is reportedly haunted by the ghosts of prostitutes in the bordello, children in the school house, and silver diggers that were killed in the area
Fort Chaffee in Western Arkansas, which is near Fort Smith, is reportedly haunted. It was featured in episode 10 of the 4th season of the TV series Ghost Adventures on Friday, November 19, 2010.[4]
The King Opera House is a historic live performance venue in Van Buren. Opened in the late 19th century, the opera house is purportedly haunted by a young Victorian man who was whipped to death by the father of his lover when they attempted to elope.[5]
California
Edit
The Hotel Jerome in Aspen is claimed to be haunted by several different ghosts. The most frequently reported is that of a young boy who supposedly drowned in the hotel pool in 1936.[7]
Pioneer Park, also in Aspen, is reportedly haunted by the ghost of Harriet Webber, wife of its builder, who died of what was ruled to be an accidental strychnine overdose in 1881, four years before it was built.[8]
Connecticut
Edit
Dudleytown is an abandoned town founded as a settlement in the mid-1740s. It lies in the middle of a forested area in Cornwall. The original buildings are gone and only their foundations remain. Footage has purportedly been captured of restless spirits in the area[9] and hikers have reported seeing orbs in the area.[10] Visitors claim that the area is unusually quiet and without wildlife.[10] It is on private property and is closed to the public.
The Remington Arms factory in Bridgeport was once a weapons factory. It was closed in the 1980s after countless accidents and fatalities. Afterward, the place was abandoned and was the site of many crimes. People have reported shadow figures, voices, yelling, and residual working sounds. It was investigated on the TV series Ghost Adventures.[11]
Union Cemetery in Easton (also Bridgeport), which dates back to the 17th century, is touted as one of the most haunted cemeteries not only in Connecticut, but in the entire country. Many haunts have been said to exist on the grounds of the cemetery. Several visitors who have photographed the cemetery are later surprised to see orbs, light rods, ectoplasmic mists, and on rare occasions even full apparitions appear in their photographs that were not visible at the time the photo was taken. The most well-known haunt is a spirit known as the "White Lady". The identity of the spirit is not known, but sightings of her did not occur until the late 1940s, meaning she must have died sometime before then. People have photographed and even videotaped her. Not only have people seen her with their own eyes, but some passers-by have even "hit" her with their cars as they drove past the cemetery.[12][13][14]
Bara Hack settlement in Pomfret aslo known as "The Village of Voices" or "The Lost Village" was once a thriving little settlement founded in the 1970's by Obadiah Higginbotham and Jonathan Randall. It has been reported that sounds from the past can be heard on this land. There is so much information provided about this eerie little settlement in books and the internet, I have provided the best link in the beginning of the post. My personal experience with Bara Hack was not extraordinary but one of odd feelings of being watched or followed. The area itself is oddly silent and still, very little or no animal activity is present. The ruins of the houses and cemetery are quite beautiful as is the land, however it is clear that it remains inhabited by an energy not supplied by humans. Bara Hack is not marked on the Connecticut map anywhere so you won't find it that way. I tried and the Thompson town hall of records refused to talk about the settlement all together. I had to do some research and found it's lacation online. It is PRIVATE PROPERTY so if you decide to go GET PERMISSION. I was quite upset to see that people are throwing there trash around on the grounds. PLEASE RESPECT HISTORY and THE DEAD!
Devil's Hopyard State Park located in East Haddam. As with many of Connecticut's state parks, the Hopyard is steeped in natural beauty, from its picturesque forest to the steady Eight Mile River, which bisects the park. One of the draws to the Hopyard is Chapman Falls (as seen above), a 60-foot cascade of water over multiple ledges; legend has it that the "Prince of Darkness" himself has been seen sitting atop a huge boulder near the top of the falls, playing a violin (or fiddle) while his minions stirred nefarious brews in the naturally formed cauldron-like potholes at the bottom of the falls. (The potholes have also been thought to be the marks burned in the rocks by the Devil's hooves.) Native Americans may have used the area for rituals, further spooking the locals and adding to the mythos. Over the decades, dark shadows and phantoms have been purportedly seen moving around the woodland. In more recent times, people have allegedly experienced spirit orbs and mists, as well as strong feelings of foreboding. Others have heard demonic voices and inexplicable laughing. EVPs have also been supposedly recorded. Text Reference
Hartford Elks Lodge On Prospect Street in Hartford sits the stately Elks Lodge, home to The Benevolent and Protective Order of Elks of the United States of America, one of the oldest fraternal organizations in the nation. Although the Elks have been long known for their strong community spirit, others believe their home base is also home to some other kinds of spirits. According to a recent article in the Hartford Courant, some believe that one of the organization's former members is still watching over the group; others suggest that paranormal happening here could be attributed to the lingering resident of a house that used to be on the same spot but was destroyed by a fire back in the mid-19th century. In 1972, a man was also found dead on the sidewalk outside the lodge, although it's not clear if he jumped off the fire escape, was pushed or died in another manner. The Courant article also claims Elks club members have reported feeling a presence in several locations inside the lodge, including the main lodge room, the ballroom and in the bar area. Others have allegedly heard voices, tables moving and mysterious footsteps, and have witnessed lights randomly going on and off. Some members have also alleged that they feel uncomfortable in certain parts of the building.
Norwich State Hospital located in Preston, the original facility was built in 1904 on 100 scenic acres along the Thames River on a site that apparently was an ancient Native American village.Christened as the Norwich State Hospital for the Insane, it originally was comprised of two buildings for patients and a cottage for doctors. Over the decades, more buildings were added and the property was expanded; at its peak, the campus was over 470 acres and included over 30 buildings, many of which were connected by underground tunnels. The hospital's population started with a few dozen declared by the courts to be "criminally insane," but steadily grew to the point that at various times there were hundreds of patients (murderers, drug addicts, violent offenders, etc.) being "treated" here throughout most of the 20th century.The first documented misfortune was a patient who hanged himself in 1914, but many more unfortunate deaths would follow. A hot water heater explosion in 1919 killed two employees; another employee was killed trying to cross the road; a nurse killed herself at her home; multiple patients died during their sentences or while undergoing treatment. Many more died shortly after release following a "successful" stay, usually in tragic or violent manners. As you might imagine, because of the numerous horrors and untimely deaths, many believe the property to be haunted. It seems an especially fertile spirit-hunting ground as essentially every kind of paranormal experience has been allegedly witnessed here, from reports of ghostly shapes and disembodied voices to foreboding feelings and EVPs. Oh, and plenty of spirit orbs and other unexplained mists/shapes have been recorded, also. Among the numerous paranormal groups that have investigated the property, the Ghost Hunters visited there in May 2010, and recorded a few interesting experiences, including allegedly seeing various odd shadows, hearing multiple creepy noises and encountering objects that randomly moved. You can watch the episode on their website. For a well-researched and detailed history of Norwich State Hospital, check out Donald Carter's Connecticut's Seaside Ghosts. Pic Slideshow
Old New-Gate Prison and Copper Mine, East Granby. It started back in the beginning of the 18th century, when settlers exploring the East Granby area noticed the green residue associated with a copper deposit on some rocks. Seizing the opportunity, the property owners started digging and officially opened for business as the first copper mine in the United States in 1707. Over the next five decades or so, the mine was worked and profits were made. Like with any capitalist venture, however, there can come a point when doing business is no longer profitable, and mining operations eventually ceased. No longer useful as a mine, it was decided that the property might make a good prison. It was chartered as such by the Connecticut General Assembly in 1773, thus becoming the first prison in the United States. The new New-Gate Prison (named after the notorious Newgate Prison in London, England) then welcomed its first inmate, John Hinson. New-Gate Prison would house prisoners for the next 50 years, until 1827, when it was closed and the inmates were moved to another facility. It re-opened as a mine for about three decades before finally becoming inactive. Around the beginning of the 20th century, it was turned into a tourist attraction, and essentially has been one since. Of course, the period when the property was a prison is when the majority of tragic events occurred that would set the stage for eventual alleged hauntings. As with any prison (or mining property, for that matter), there were a number of unfortunate — and fatal — incidents, along with the general suffering, misfortune and inhumane treatment common to any place of prolonged harsh incarceration. In its time, New-Gate Prison saw its share of fatal "insurrections." In 1806, one involving 30 men started in the blacksmith and nail shop, and ended with the death of inmate Aaron Goomer. Another occurred in 1823, this featuring over 100 prisoners, two of whom were fatally shot by guards. And obviously, there were failed escape attempts. One of the most notorious escape-gone-awry stories happened in 1827, when Abel Starkey fell to his death while trying to escape by climbing up a rope that had been dangling in the well (which was accessible from down below in addition on top). No mention if the rope had been made of knotted bedsheets or not. As with any location associated with such a dark history, New-Gate Prison has gained a reputation as a haunted spot. Over the years, there have been stories of spirits allegedly spotted roaming the grounds, as well as ethereal voices supposedly heard in the mine's tunnels.
It has been officially designated as a National Historic Landmark. Pic Slideshow
Lake Compounce, Bristol. Legend has it that shortly after John Compound (the Native American chieftain who the park is named for) traded the property in 1684 to a group of white settlers, he drowned in the lake "while trying to cross it in a large brass kettle." (Hey, that's the story!) Another version has Compound killing himself when he realized he hadn't gotten fair value for the land, while yet another suggests his own tribe murdered him in retaliation for giving away their sacred ground. Whatever happened, it didn't subsequently dissuade people from visiting the scenic lake, nor did it prevent eventual Lake Compounce owner Gad Norton from opening the park to the public in 1846 for picnicking and other amusements. In the ensuing decades, the park grew steadily, adding more picnic and swimming areas as well as the state's first 10-pin bowling alley and a ballroom. In 1911, a carousel was built, followed by a roller coaster in 1914. A few years later in 1927, the renowned Wild Cat wooden roller coaster — a ride you can still enjoy to this day — started thrilling visitors. More attractions were added, and the park grew in stature — during its heyday in the 1940s, famous big bands came to play Lake Compounce's Starlite Ballroom, including Tommy Dorsey's band featuring a young Frank Sinatra. The later half of the 20th century saw the park's business slowly fade, struggling and passing through the hands of multiple owners in the 1980s and 90s. It was finally purchased by Kennywood Entertainment Co. of Pennsylvania in 1996, and has enjoyed extensive renovations and expansions to become the family-friendly destination it is now. You can read the park's official unabridged history here. As you might expect with any decades-old amusement park, there have been fatal mishaps. Unfortunately, there isn't much in the way of documentation before the last half century, although there are vague stories about workers being killed in construction accidents and children drowning in the lake. In more recent times, however, there have been many all-too-verified events. In 1981, a 16-year-old girl fell off a moving roller coaster when she tried to stand up; in 1999, a 16-year-old park employee was struck and killed by the Tornado ride; in 2000, a 6-year-old boy drowned while riding the park's Lake Plunge water slide; and in 2001, a 23-year-old maintenance worker was killed while working on Boulder Dash. As expected with so many tragic events and such a long history, there are many stories of supernatural goings-on surrounding Lake Compounce. Dark shapes and spirits have been seen in and around the ballroom, strange music and the disembodied voices of revelers past have been heard, and there are reports of inanimate objects moving and lights turning on and off of their own volition. Nighttime security guards also allegedly have seen strange things after hours. The good news is that despite the unfortunate tragedies and accidents, many people have enjoyed themselves immensely at Lake Compounce Amusement Park over the past 153 summers, and will do so again this year.
Gunntown Cemetery, Naugatuck. One of the oldest cemeteries in the area, the Gunntown Cemetery in the Millville section of Naugatuck, dates back over two centuries to 1790, and features numerous headstones from the Colonial era. A smallish plot, it is enclosed by a stone wall and an iron gate, neither of which seem to contain the restless spirits alleged to roam this graveyard. Gunntown Cemetery is a bit unique in terms of "haunting" in that there doesn't seem to be a particular well-known legend associated with the site to account for the supposed high level of haunting that occurs here, other than it being a very old cemetery. No tales of heinous crimes or tragic love stories to stoke the paranormal reputation, as it were. As for particular otherworldly phenomena observed here — some claim to have heard random music and the laughter of children; others have alleged that they've seen a man carrying a lantern leading a horse across the grounds, as well as a little boy playing by the back wall who simply vanishes. Still others have claimed to have glimpsed a black dog that also quickly disappears. Those who have investigated here have recorded spirit orbs and mists, as well as numerous EVPs (Electronic Voice Phenomena). The "Warrens" have also visited Gunntown, and unsurprisingly, deemed it "officially haunted." Many who trek there at night suggest that there are strong feelings of dread, inexplicable drops in temperature, and a general sense of being creepy. Gunntown Cemetery is located on Gunntown Road in Naugatuck. From what we can tell, there are no set hours, and there are no "No Trespassing" signs. That being said, the local police patrol the area regularly and frown upon after-dark visits. Although, as always, if you do decide to visit, please be respectful.
Fairfield Hills State Hospital, Fairfield. Opened in 1931 to help alleviate the overcrowding at other state mental hospitals, Fairfield Hills housed "mentally ill" (aka "the criminally insane") patients from across the state. Built on over 770 bucolic acres, the 16 buildings — all connected by underground tunnels — were home to over 4,000 patients when filled to capacity. Like many of its patients, Fairfield Hills projected an outward image that seemed quite pleasing; what was happening inside behind closed doors and out of the public eye, however, was much darker and disturbing. Fairfield Hills was like many hospitals in how the mentally ill were treated — with electric shock therapy, hydrotherapy, psychosurgery and frontal lobotomies, as well as a few suicides and "mysterious" deaths. Stories of abuse and cruelty were rampant. In short, it wasn't a happy-smiley, fluffy-kitty and shiny-rainbow type of place. With less and less patients being treated there, Fairfield Hills was closed by the state in 1995. And that's when it seems the troubles began. Because of its classic stately hospital look (red brick buildings, tall white columns, etc.), and its long, cruel history, it was used as a setting for the movie Sleepers as well as for MTV's "Fear." And as any abandoned mental hospital that's been on TV will do, it's brought a bevvy of paranormal investigators, psychics, abandoned-site explorers and other trouble seekers, who have claimed to have found evidence of hauntings, although no specific ghost/spirit/story is synonymous with the place. Old hospital, underground tunnels, cruel history — must be haunted, right? Right? As with many hauntings, no definitive proof or evidence, just a lot of odd experiences and unusual claims. Inside Fairfield Hills Video.
The Riddle House in Royal Palm Beach is reputedly haunted by the spirit of Joseph, a former employee of the original owner Karl Riddle, who hanged himself in the attic after being falsely accused of a crime. Shortly after, people began reporting physical attacks, possessions, and objects moving mysteriously.[16] Moved from its original location in West Palm Beach, the house was investigated on the TV series Ghost Adventures.
The Saint Augustine Lighthouse is allegedly haunted by two little girls, the daughters of the engineer responsible for building the lighthouse. A drifter is also said to have hung himself in the lighthouse in the 1800s and a couple of ghosts are reportedly past lighthouse keepers. Investigated by many ghost investigators, it was also featured in one episode of Ghost Hunters.[17]
The Coral Gables Biltmore Hotel in Coral Gables is reportedly haunted by the ghost of Thomas "Fatty" Walsh, a mobster who was murdered on September 7, 1929 during a gambling dispute. Claims include that his ghost haunts the hotel elevator, from which reports of doors opening and closing and lights blinking on and off, as well as the 13th floor on which he was killed. Reports also include that of a woman who was said to have jumped out of a window to save her child. Guests have reported seeing a woman in white clothing in their rooms.[18]
The Moon River Brewing Company in Savannah is reportedly haunted by angry spirits. Staff members have reported physical attacks, possessions, and mysterious dark figures. It was investigated on the TV series Ghost Adventures.[19][20]
Ashmore Estates: is a former almshouse and current haunted attraction in Coles County. It has appeared in several books, television shows and documentaries, including Soul Catcher and an episode of Ghost Adventures.[21]
Manteno State Hospital is an abandoned mental hospital in Manteno. In recent years, much of the former hospital has been reclaimed as an industrial park and as low-income housing. Tunnels under the hospital are reportedly haunted, and visitors claim to have seen phantom nurses and patients.[24]
The McPike Mansion in Alton is a mansion that was constructed in 1869. There have numerous reports of paranormal activity occurring in the mansion, including reports of hearing children laughing and sightings of apparitions moving around the halls. These hauntings are somewhat unusual in the sense that they are not linked to a murder or suicide.[25]Template:Verify credibility
Pemberton Hall is the oldest all-female dormitory in the state of Illinois. It is home to the legend of Mary Hawkins, a former dorm mother who reportedly haunts the hall. Other students living in Pem have told stories reminiscent of the urban legend "The Roommate's Death."[26]
Peoria State Hospital is an abandoned mental hospital in Bartonville. This hospital was the scene of the ghost of "Old Book," who haunted his gravesite. Trespassers have long come away with stories of eerie encounters.[27]
Polish Museum of America: at 984 .N milwaukee ave. in chicago, is believed to be haunted by the ghost of the famous pianist Ignace Paderewski. The staff recounts a number of incidents related by a number of people, including the cleaning crew who have claimed to experience ghostly-related phenomena late at night. The Ghost Research Society was even brought in by the museum staff to investigate these claims.[28]
The Stickney House in Bull Valley has a unique design due to Stickney's belief in spiritualism. It is thought that he and his wife wished to communicate with their dead children. Today the house is the local police department, and it is claimed that police report strange sounds, objects moving around, lights turning off, and door knobs turning and doors opening by themselves. Other homes in the area are also rumored to be haunted. The nearby Holcombville cemetery includes tombs of the Stickney children and a person killed in the crash of American Airlines Flight 191.[29][30]
Resurrection Mary  : is a well-know Chicago area ghost story. Of the "vanishing hitchhiker" type, the story takes place outside Resurrection Cemetery in Justice, Illinois, a few miles southwest of Chicago.[1]
Since the 1930s, several men driving northeast along Archer Avenue between the Willowbrook Ballroom and Resurrection Cemetery have reported picking up a young female hitchhiker. This young woman is dressed somewhat formally in a white party dress and is said to have light blond hair and blue eyes. There are other reports that she wore a thin shawl, dancing shoes, that she carried a small clutch purse, and/or that she was very quiet. When the driver nears the Resurrection Cemetery, the young woman asked to be let out, whereupon she disappeared into the cemetery. According to the Chicago Tribune, "full-time ghost hunter" Richard Crowe has collected "three dozen . . . substantiated" reports of Mary from the 1930s to the present.[2]
Hi there!
Welcome to our wiki, and thank you for your contributions! There's a lot to do around here, so I hope you'll stay with us and make many more improvements.
I'm really happy to have you here, and look forward to working with you!
At the Story Inn in the town of Story a guest room is supposedly haunted by a ghost known as "the Blue Lady". Little is known of who she might be, or why she might haunt that room, but her alleged presence is mentioned in many separate guestbook entries. According to some, she seems more likely to appear if a certain table-lamp is turned on.[31][32][33][34]
A tunnel in Tunnelton, known as The Big Tunnel, is supposedly haunted by the ghost of Henry Dixon, who was brutally murdered inside of the tunnel. He was tied to the tracks and decapitated by an oncoming train. The apparition looks like a decapitated man, holding a lantern in one hand, and his head in the other. There is also a rumor that a graveyard was built on top of the tunnel, and during the construction, caskets fell inside the tunnel. In the late 1930s, a gruesome accident occurred on the Devil's Backbone, a hill that is located at The Big Tunnel. The family involved is also believed to haunt the tunnel itself.[35][36]
Brick building in Farrar that housed the middle school until 2002 and has been a private residence since 2008: the owner felt an unseen hand steady her when she was about to lose her balance on the stairs and later saw a young boy's apparition in the stairwell; a photo taken in the former auditorium shows the outline of a young boy sitting on the edge of the stage; digital recorders have picked up EVPs of children conversing and giggling.[37]
Louisiana
Edit
The Myrtles Plantation in St. Francisville is reportedly haunted by a slave known as Chloe. Chloe was put to death by the other slaves after she intentionally or unintentionally killed at least some members of her master's family with oleander leaves put in a cake. The other slaves possibly killed her to prevent punishment by their master. It has been called by some one of the most haunted homes in America.[42]
Chestnut Lodge in Rockville was a private facility treating mental patients for over one hundred years. Closed in 2001 and now under renovation for resale as upscale condominiums, separate recent investigations claim paranormal activity. The building was burned down in June 2009.[43]
Engineered Piping Products is a Baltimore-based reseller of industrial pipe, valves and fittings. The building is located upon the site of an old residential neighborhood. All of the activity tends to happen at the site of the old Deboser home. A local paranormal group, Pasadena Paranormal, has cumulatively logged over 100 EVPs from this location. They have experienced buzzing sounds that fly by their heads, and recentlyTemplate:When one employee had his coat tugged from behind when he was in the building alone. This site has been submitted to the Syfy's Ghost Hunters Great American Ghost Hunt for their consideration.[44]
Point Lookout Lighthouse, at the southernmost tip of Maryland's western shore of Chesapeake Bay, has seen numerous shipwrecks, bodies washed ashore, and plenty of paranormal activity, as documented over the centuries.[45]
Massachusetts
Edit
Danvers State Hospital, a psychiatric hospital located in Danvers, Massachusetts, was an asylum thought to be very haunted. There are many references in popular culture about the hospital. While the buildings were demolished so a company can build apartments, alleged hauntings continue. The apartments are said to be so haunted that people must move out. A movie (Session 9) was made based on (fictional) accounts of haunting and possession.
The Houghton Mansion in North Adams, where North Adams' first mayor, A.C. Houghton, and his family, lived, is supposedly haunted by a cab driver who committed suicide in the basement after a car accident that led to death and tragedy for the Houghtons. It is now used as a Masonic temple. It was investigated on the TV series Ghost Adventures.[47]
The Lizzie Borden House in Fall River, which is now a bed and breakfast, is claimed to be the most haunted house in the USA. It is the site of a double murder, one of the most famous in US history, claimed ghost sightings and noises.[49]
The USS Salem (CA-139) in Quincy, which now serves as a museum ship open to the general public. Though never seeing combat, the ship has seen its fair share of life and death. Notably after the 1953 Ionian Earthquake serving as a hospital ship. The ship is home to the Fore River Paranormal Society, hosts ghost tours on a regular basis, is converted to a haunted ship open to the public during Halloween and was even featured on the show Ghost Hunters.
Spider Gate Cemetery In Leicester Massachusetts on a forgotten dirt road lies an old Quaker cemetery that has developed quite a reputation. The proper name for this place is 'Friend Cemetery' and the Worcester Pleasant Street Friends Meeting owns it. The fact that there is no marker or nameplate showing its name; visitors have dubbed it Spider Gate Cemetery due to the spider web like pattern that adorns its beautiful wrought iron gate. Spider Gate has many interesting stories attached to it. It has an altar in the center used by Satanist. A young boy hung himself in the cemetery. There is a second cemetery near by that can be found only once. There is an area in the cemetery where no grass will grow. If you walk around Marmadukes gravestone 10 times at midnight and say 'Marmaduke speak to me,' kneel down and place your head on the gravestone, he will speak to you. White stuff oozes from the ground. There is a cave near by that a young girl had been killed and dismembered in. If you turn over rocks in an area outside the cemetery wall, you will find runes etched on them. Most frightening of all, is that the cemetery is considered to be the Eighth Gate to Hell!
At Kemper Arena in Kansas City there are said to be sightings, sounds, and lights flickering on and off in the arena late at night from a former WWE wrestler named Owen Hart who died in 1999 by falling Template:Convert to his death from the ceiling of the arena. There are also said to be sightings of him still in his Blue Blazer suit at the top of the arena looking down with the cable hooked up to him.[53]
The Lemp Mansion in St. Louis is said to be one of the most haunted buildings in the United States. Four members of the Lemp family killed themselves, three in the mansion. There are said to be apparition sightings, glasses flying off the bar, pianos playing by themselves, etc. The mansion is now open as a restaurant and bed and breakfast.[54]
Wilsons Creek National Battlefield near Republic Missouri was the site of a major civil war battle fought in August 1861. Casualties for both sides numbered in excess of 2500 and General Lyon, the first union general to be killed in the civil war, met his fate there on that hot summer day in August. Members of The Ozarks Paranormal Society received a special use permit to investigate the Ray House, Bloody Hill and several of the sink holes where soldiers from both sides were buried in mass graves. People have reported hearing the sounds of troop movements, fife and drum music, being touched, hearing disembodied voices and seeing apparitions at various places throughout the battlefield. Feelings of being watched and followed while on the trails are common place and several photos of civil war soldiers are reputed to have been taken both in the evening and during the day light hours.
Bannack, a ghost town that was one of the first-settled towns in its county, is reportedly haunted. It was founded in 1862 and named after the Bannock indian tribe. Several reports of hauntings have been made there, including the apparition of a woman in a blue gown named Dorothy who drowned in Grasshopper Creek. A gang of outlaws were also executed in the town and their ghosts are said to haunt the area. There were several epidemics of illnesses there as well, and a reported 8 to 14 infants died in the town; visitors have often reported hearing babies crying.[55]
Carroll College, in Helena, supposedly has a ghost in the men's bathroom in St. Charles Hall, where a drunken student died of a cerebral hemorrhage after falling and smashing his head against a sink in the middle of the night.[56] The bathroom was closed for a period after the death, but was later reopened for student use. Several maintenance men and students have reported coming into the bathroom and seeing blood in the sink where the student hit his head. St. Albert's Hall is also said to be haunted by a nun who died of influenza in the college's early days.
The Copper King Mansion in Butte is said to be haunted by its original owner, Senator William A. Clark.[55] Owners have reported a warm and welcoming presence in the house, but have reported witnessing unexplained shadows and footsteps, as well as cold spots. The mansion also served as a Catholic convent in the early 1900s.
Garnet, a ghost town nestled in the Garnet Mountain Range about 40 miles outside of Missoula, is said to be haunted by several ghosts, including gold miners and a woman executed for murder there.[55] People have often heard voices and loud music when nobody is there.
The Old Montana State Prison, located in Deer Lodge, is reportedly haunted and had a history of extremely violent criminals, countless executions, and several riots.[57] Built in 1871 and in operation until the 1970s, the prison is now a museum open to the public, and guests have reported disembodied voices and footsteps in all areas of the prison. An underground solitary confinement sect of the prison, known as "the hole", which housed prisoners in total darkness, is said to be haunted, and guests have reported being pushed and touched while in the cells.
Virginia City, a ghost town-turned-tourist-attraction, is said to be haunted. The saloon and theatre are two areas of reported ghost sightings.[56] The town had a violent past and was home to many outlaws. Calamity Jane lived in the town as a child.[56]
Abraham Curry House in Carson City is a historic residence reportedly occupied by the spirit of its namesake builder Abraham Curry, the founding father of the city and state capital, who died in 1873 with only one dollar in his pocket.[58]
The Nevada Governor's Mansion in Carson City was first occupied by the family of Governor Denver S. Dickerson in July 1909. Guests and staff have reported seeing a woman and child on the premises, thought to be Dickerson's wife Una and daughter June, the only child to have been born in the residence.[61]
New Hampshire
Edit
Huntress Hall, a dormitory at Keene State College, is supposedly haunted by its namesake, Harriet Huntress. Students often report strange noises coming from the building's attic, where Huntress' wheelchair remains to this day.[62]
Pine Hill Cemetery (also known as "Blood Cemetery") in Hollis is allegedly haunted by a family murdered in the 19th century. People have reported orbs, EVPs, and a mysterious little boy running out onto to the road to stop cars.[64][65]
New Jersey
Edit
Burlington County Prison in Mount Holly is reportedly haunted by a legless, floating spirit that moves from the entrance to the yard, a tall male in a uniform in the basement, and the third floor is claimed to have a flurry of paranormal activity.[66]
The Devil's Tree in Bernards Township is said to be one of the old headquarters of the Ku Klux Klan in New Jersey. An area surrounding the tree is said to give off unnatural warmth where snow doesn't seem to stick in the dead of winter. They say that the tree has a branch that still hangs low from where the KKK would lynch people. People who have tried to cut it down or do harm to the tree have allegedly met an untimely death.[67][68]
Domani's Restaurant in Roselle Park is reportedly haunted by its former owner who died in the building.[69]
The Essex County Hospital Center in Verona is believed to be haunted by full-body apparitions of nurses and patients. Some have even claimed a demonic presence. The sound of a rolling gurney can frequently be heard.[70][71]
New Mexico
Edit
112 (now 108) Ocean Avenue, Amityville. Based on the 1977 book, The Amityville Horror by Jay Anson. Scene of a tragic mass murder in 1974 committed by Ronald DeFeo, Jr., the next inhabitants of the home claimed that it was haunted and fled after 28 days. Their experiences were portrayed in Anson's bestselling book, which was followed by a hit movie The Amityville Horror which in turn spawned a cottage industry. Despite accusations of a fraud, the family maintains that they experienced paranormal phenomena while living in the Amityville house.
The Farnam Mansion in Oneida is said to be haunted by human and animal spirits alike. Research conducted by the current owners, Gerri and Brian Gray, found six known deaths had occurred in the mansion. The Farnam Mansion has been investigated by such paranormal groups as the New York Shadow Chasers and New York State Paranormal Research, all of whom have reported paranormal phenomena. [75]
North Carolina
Edit
Shouting by disembodied voices was heard during a paranormal investigation of the stone building that formerly housed the Ashe County Hospital in Jefferson. The investigators also heard an elevator in the building "ding" even though the structure had no electricity. Also in Jefferson, the Museum of Ashe County History occupies the century-old building that had been the county courthouse. In the summer of 2010, a college intern working alone in the building on the main floor heard a telephone ring on the second floor and a person walk across the floor to answer it.[77]
The Attmore-Oliver House in New Bern has been the scene of some poltergeist-like activity stemming possibly from either deaths in the house during a smallpox epidemic or the spirit of the last private owner.[78]
Brown Mountain in Burke County is reputed to have ghostly orbs of light radiating from the mountain. The Brown Mountain Lights date back as far as the year 1200, according to local Cherokee legend. This was the year of a great battle, and the Cherokee believed the lights to be the spirits of Indian maidens who still search for lost loved ones. There also has been speculation of alien activity. Wiseman's View on Linville Mountain is the best vantage point for viewing the Brown Mountain Lights. The lookout was used by German Engineer William de Brahm in 1771 while studying the phenomenon. He attributed the lights to nitrous gases emitting from the mountain and combusting upon collision. His theories were later disproven.[79]
The Carolina Theatre in Greensboro, NC was set ablaze on July 1, 1981 by a woman who was assumed mentally disturbed. Ms. Melba Frey went up to the upper balcony and started the fire, which burned the entire balcony and lobby. Her body was found in the stairway by firefighters, and she is now believed to haunt the area in which she died, flipping the folding seats up and down.[80]
An older woman in 18th-century dress is said to haunt the second and third floors of the Harvey Mansion Historic Inn and Restaurant in New Bern. A North Carolina State University professor reported seeing her glide by his table while dining in the second-floor restaurant.[82]
Lydia's Bridge is located in Jamestown, just outside of Greensboro, NC. According to the story, in the early 1920s Lydia and her date were headed home from a dance. It was a foggy night, and in a hurry to get home by Lydia's curfew, her date lost control of the car and hit the Southern Railroad Underpass Bridge head-on. Her date died on impact, but Lydia, badly injured, managed to escape the car. Trying to flag down a passing car for help, she was mistaken as a hitchhiker, and died by the roadside. There have been accounts of people picking up a hitchhiker in white, who says her name is Lydia. She gives an address and says she doesn't want her mother to worry and she needs to be home by curfew. Then she disappears before she reaches her destination. Lydia is also known as The Phantom Hitchhiker; The Lady in White; and The Vanishing lady. Lydia's Bridge is now abandoned, but U.S. Highway 70 used to run under it. Now High Point Road, it was straightened and a new underpass was built a few feet away in an effort to make the road safer.[83]
The Tar River, near Tarboro in Edgecombe County, is associated with a legend of a banshee. The legend speaks of a Patriot miller who was killed by a small group of British soldiers during the American Revolution. Before they drowned him in the river, he warned the soldiers that if he were killed, they would be haunted by a banshee. After his death, she appeared and caused the deaths of the soldiers and supposedly still haunts the river.[86]
Cincinnati Music Hall is a theater that was built over a potter's field. Reports of spirits on the property date back to 1876 and continue through modern times. In 1988, during the installation of an elevator shaft, bones of adults and children were exhumed from under the hall.[87]
Ohio University is known in state folklore as one of the most haunted college campus in the United States. Established in 1804, the university is old by Ohio standards, which adds to its ghostly reputation. A large number of places on campus are said to be haunted, and numerous other popular tales are told about the university in Athens county. The British Society for Psychical Research claims that Athens, Ohio, is one of the most haunted places in the world.[89] Fox filmed an episode of its Scariest Places on Earth at the university. Many of the ghost stories associated with Athens and the University center around the former Athens Lunatic Asylum and the horrors that supposedly went on there.
Prospect Place in Trinway. Satanic rituals were allegedly performed on the site, and many people were supposedly killed during its time as a stop on the underground railroad. It was investigated on the TV series Ghost Adventures.[90]
Hot Lake Hotel is a supposedly haunted hotel in eastern Oregon. The hotel is known for a massive fire that occurred in 1934, as well as suicides and hauntings from ghosts during its days as a sanatorium.[93] Countless people died on the property, including a doctor who killed himself in an operating room, as well as a nurse who died after falling in the scalding hot springs.[94] The building served as a hotel and resort for its homeopathic mineral waters, as well as a hospital and elderly home, and housed a restaurant in the late 1980s. It was in disrepair by the early 1990s, but was restored for the public in 2003 by a private family. In 2001, the hotel was featured on the television show The Scariest Places on Earth.
The Multnomah County Poor Farm, also known as the Edgefield Poorhouse and Edgefield Power Station, located in Troutdale, Oregon, is supposedly haunted. The construct, built in 1911, operated as a poorhouse, and also housed the mentally challenged, the disabled, and the elderly;[95] since death was common in poorhouses, many people were buried on the property in unmarked plots.[96] The property later served as a sanitorium and a reform school for troubled kids before falling vacant in 1990. It is now a hotel operated by McMenamins restaurant and brewery, and has several restaurants and bars on the property as well as an outdoor stage for concerts. Hotel guests have frequently reported hearing a woman's voice reciting nursery rhymes, as well as unexplained crying in the building. A woman dressed in white is also often seen roaming around the property.[95]
Pittock Mansion, located in Portland, is reportedly haunted by its original owners, Henry and Georgiana Pittock, who built the house and died there.[95]
Rhododendron Village, located near the town of Rhododendron along the Barlow Trail, is a campsite that was used by pioneers on the Oregon Trail in the mid-1800s, and is reputed to be haunted. The site, which houses several log cabins and mess halls, is near Laurel Hill, the steepest hill along Barlow Trail. Conestoga wagons were often hoisted up the hill by ropes, and many deaths occurred there; the Rhododendron Village served as a gravesite for many of these people. Volunteer workers there have reported doors slamming open and shut as well as lights turning on and off, and several graves have been discovered around the property.[95]
The Welches Roadhouse is a two-story house in Welches, Oregon on Mount Hood that is supposedly haunted by a woman who killed herself on the property.[95] The woman purportedly jumped from a second-story door used for snowdrifts after the man whose child she was bearing— an escaped convict whom she had taken in— left her.
Pennsylvania
Edit
Rhode Island
Edit
Belcourt Castle, a French Renaissance-style château in Newport, is alleged to be the location of numerous paranormal phenomena and events, including moving chairs, moving armor, ghostly apparitions, a possessed statue and various other sightings.[98]
In Exeter, there are a few buildings formerly known as the Ladd School, a school for the mentally disabled that was founded by Dr. Joseph H. Ladd in 1907 and officially closed in 1994. The school reportedly mistreated students, and there are stories today of ghost sightings of the children who suffered, noises, and electronic malfunctions. The Exeter Job Corps Academy was built over the Ladd School's ground, with many of the older buildings still intact and reportedly "haunted."[99]
Tennessee
Edit
The town of Adams, TN was the site of the Bell Witch haunting, as well as the Bell Witch Cave. Townspeople (even in modern times) have reported seeing strange occurrences, including seeing a little girl in a green dress who disappears shortly after being seen. This is a common apparitional state in which the Bell Witch chooses to be seen.[100]
The [[Old South Pittsburg Hospital][ in South Pittsburg, Tennessee, was reported to be one of the most haunted locations in the Southern United States. Possibly the most common apparition is a 7.1 foot tall shadow figure in the third floor.
The Carnton Mansion in Franklin, Tennessee was used as a hospital for Confederate Soldiers during the Civil War. Many of the deceased here were buried in mass graves. Several of their apparitions have been seen, heard and even felt here. Among them is the white apparition of a woman who appears on the back porch.[101]
Back in the Sixties and Seventies when it was still known as Hendersonville High School, Ellis Middle School was haunted by ghostly footsteps and random apparitions. Students once described the apparition of a dark coachman on the location. The Seventies TV-Series "That's Incredible" once considered a segment on the hautings but passed it over for other projects.[102]
The Loretta Lynn Plantation House and the area surrounding Hurricane Mills, Tennessee are both said to be haunted by the founders of the plantation and it's town. There have been unexplained reports of Civil War soldiers walking and camping around the town and near the plantation. In 2011, the Ghost Adventures crew conducted an investigation inside the house, and aired the episode of the Loretta Lynn Plantation House, during which the crew observed a significant amount of unusual activity. [104]
The Orpheum Theatre in Memphis is haunted by the ghost of a small girl who was killed in a car accident in front of the theater. She appears in Seat C5 watching the performances and around the structure. In 1979, a parapsychology class from the University of Memphis found evidence of six more ghosts on the location.[105]
Built in Kingsport, Tennessee in 1818, Rotherwood Mansion is haunted by the ghost of a "Lady In White." She's believed to be Rowena Ross, the daughter of the builder of the house. She supposedly returns looking for her true love who drowned on the Holston River.[106]
Also known as the Grand Ole Opry House, Ryman Auditorium was originally built as a church, but years of music concerts here made the location the home of Country Music in the United States. Many believe the location is haunted. Footsteps have been heard, doors close and the voice of Hank Williams Sr. has been heard singing his old songs. Others have described the image of a Confederate Soldier on the premises.[107]
The Sheraton Read Hotel in Chattanooga is haunted by the ghost of Lisa Netherly who was murdered by her husband here as she was meeting her lover here for a secret tryst. She is said to haunt her former room and to jump in bed with male guests who check in alone.[108]
Tennessee High School in Bristol, TN is haunted by former students and a phantom locomotive that roars over the gym and down the hall. Part of the school was reportedly built over forgotten railroad tracks.[109]
Tennessee State Prison is supposed to be haunted. A former warden describes odd voices, strange sounds and disembodied footsteps. The location was used in the movie The Green Mile and also elaborated on in the TV-Series, "Celebrity Paranormal Project." [110]
The Woodruff-Fontaine House is haunted by the ghost of Molly Woodruff. She has been seen and felt in the Rose Room which was once her bedroom. The location is now a museum, and one docent once heard Molly's voice say, "My bed doesn't go there." Others have sensed cigar smoke in the old mansion they can't explain.[111]
The Alamo in San Antonio is reportedly haunted by the spirits of those who died during the Battle of the Alamo. The site has been the scene of many ghostly sightings, starting shortly after the battle and continuing up to modern times.[112]
The Devil's Backbone in the Texas Hill Country is said to be haunted by a Spanish monk, Native American, Wolf Spirit, and Confederate soldiers.[113]
Jefferson Davis Hospital in Houston has long been a popular spot for local ghost hunters. The existing building was completed in 1925, allegedly on the site of a mid-19th century cemetery, and has recentlyTemplate:When been remodeled into apartments.[114]
Miss Molly's Bed & Breakfast, Fort Worth. It's rumored that every building in the legendary Stockyards of Fort Worth are haunted. But none is quite as haunted as Miss Molly's—which is considered by most to be one of the most haunted places in Texas. The hotel was built in 1910 and it's gone through several different transformations. Everything from a "speak-easy" named The Oasis during prohibition to a bordello in the 1940s named Gayatte Hotel—which was operated by a Miss Josie. Today the Star Café is on the bottom floor and Miss Molly's Bed & Breakfast is on the top floor. The building has been confirmed to be haunted by-way of apparitions to spirits not knowing that they're dead.[115]
Presidio La Bahía in Goliad is a fort that was the site of numerous conflicts before and during the Texas Revolution, including the Battle of Goliad and most notably the Goliad Massacre in 1836. Many South Texas locals have claimed that the spirits of massacred soldiers can be found on the premises, and some have even claimed that at night their cries of agony can be heard from time to time.[116]
Bennington College students in the Jennings Hall music studies facility have reported hearing voices and footsteps, particularly after dark. It was the inspiration for the Shirley Jackson novel "The Haunting of Hill House".[117]
Emily's Bridge, located in Stowe Vermont Gold Brook Bridge is not your ordinary covered bridge. This bridge is also known as "Emily's Bridge" , due to that it is haunted by a ghost named Emily. Many people that have visited the bridge have experienced disturbing paranormal activity. People have reported scratch marks appearing on vehicles that were parked on the bridge, and being touched or scratched by Emily's ghost. Often strange noises are heard on the bridge, noises such as footsteps, ropes tightening, and a girl screaming. Many also have reported seeing a white apparition around the area of Emily's Bridge
Aquia Church in Stafford is said to be one of the most haunted churches in Virginia. Legend says that the church and the church graveyard, which has graves dating back to 1738, are both home to paranormal activity that has taken place for over 200 years.[118][119]
Ferry Plantation House in Virginia Beach, a colonial and plantation era house, with 11 reported ghosts, including: people who perished in an 1810 ship wreck at the ferry landing, former slave named Henry - who still considers this his home, Sally Rebecca Walke - eternally mourning the loss of a lover, former resident/artist Thomas Williamson, and the Lady in White from 1826, who reportedly died from a broken neck falling down the stairs.[123]
Monticello in Charlottesville was the home of Thomas Jefferson, and employees have often heard him whistling on the grounds, as he was known to do during his living days. It has been reported that there has been seen an apparition of a 10 year old boy wearing a uniform and a tri-cornered hat peering out a 2nd floor window.[126]
Washington
Edit
Montgomery House Bed and Breakfast in Kalama was once a hospital, bordello, and medical clinic, built on land formerly occupied by the Cowlitz Indian Nation. The land was site to tens of thousands of Native American deaths, and full-body spectres are reported both in the establishment's back yard and within the home. This location was the subject of the 2009 feature film documentary Montgomery House: The Perfect Haunting, directed by psychic Danielle Egnew.[130]
Washington, D.C.
Edit
West Virginia
Edit
Wisconsin
Edit
Summerwind Mansion, formerly known as Lamont Mansion, is a ruined mansion on the shores of West Bay Lake in Vilas County, Wisconsin. It is reputed to be one of the most haunted locations in Wisconsin.
References
Edit
External links
Edit