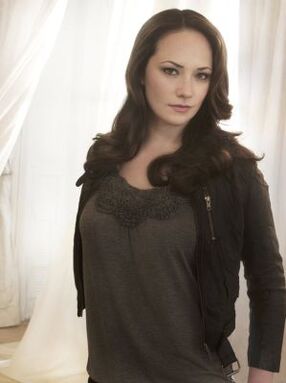 Kris Williams
is a researcher and investigator on
SyFy
's paranormal reality series
Ghost Hunters
and is the Co-Lead investigator on
Ghost Hunters International
.
[1]
Before
Ghost Hunters
, Williams worked as a flooring installer/carpenter for three years and in electronics for three years (soldering and assembly).
[2]
She also helped her father with his gun shop for several years with online sales.
Template:Citation needed
Biography
Edit
Kris is the daughter of Bob and Diane Williams, and the oldest of their three children. She was born in Lowell, Massachusetts on February 20, 1981[2]

Her studies revolved around art at Alvirne High School until she took an internship at a local radio station where she worked the soundboards and performed some broadcasting. Williams attended Rivier College for two years, studying communications.[2] During this time she met Jason Hawes and Grant Wilson through a mutual friend she was dating and became interested in The Atlantic Paranormal Society (TAPS), the paranormal group founded by Hawes and Wilson. Williams wanted to get involved but could not at the time because of her school and work schedule.[3]

After two years she left communications and took time off from school. She decided to pursue modeling and found representation by the Click modeling agency in Boston, Massachusetts,[4] where she stayed for several years doing print work, hair shows and some runway work. By this time Hawes and Wilson were working on Ghost Hunters and Williams had found work in various non-speaking roles as an extra in local movies and TV shows, such as Waterfront, Brotherhood, 21, Mystic River and Fever Pitch.[4] She had begun auditioning for soap operas and speaking roles when Hawes and Wilson needed some help after members left their show.

She has had a love of genealogy since she was 11 years old and she believed in the paranormal, but remains a skeptic. Hawes and Wilson had known her for quite a few years by this point so they asked her if she would join the team. They also felt her research experience would come in handy for researching the locations they investigate.

Williams has now been with TAPS and Ghost Hunters for over three years as an investigator and historical researcher, and has filmed 79 episodes for the TV show. She is now the co-lead investigator along with Barry Fitzgerald on Ghost Hunters International. She presents the cases to the clients at the end of the show wrap up along with Barry.

Over her three years with the show, she has picked up the nickname "Bait".
References
Edit
External links
Edit
Ad blocker interference detected!
Wikia is a free-to-use site that makes money from advertising. We have a modified experience for viewers using ad blockers

Wikia is not accessible if you've made further modifications. Remove the custom ad blocker rule(s) and the page will load as expected.