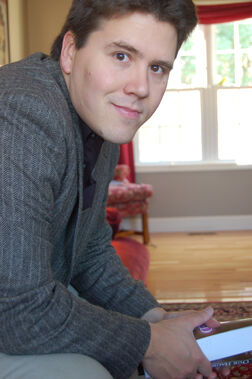 Jeff Belanger
(born August 8, 1974 in
Southbridge, Massachusetts
) is an
American
author, public speaker and
paranormal
investigator.

Jeff Belanger graduated from Hofstra University with a B.A. in English. After college Jeff served as Editor-in-Chief of Main Street - a biweekly arts and entertainment newspaper in northern Fairfield County, Connecticut, he worked in marketing and public relations for both private and public companies, and he's currently a full-time writer living in Massachusetts with his wife, Megan, daughter, Sophie, and parakeet, Mambo.
Bibliography
Edit
What It's Like to Climb Mount Everest, Blast Off into Space, Survive a Tornado, and Other Extraordinary Stories (Sterling, March 2011) ISBN 1-4027-6711-0
Picture Yourself Legend Tripping: Your Complete Guide to Finding UFOs, Monsters, Ghosts, and Urban Legends in Your Own Backyard (Course Technology PTR, June 2010) ISBN 1-43545-639-4
The Mysteries of the Bermuda Triangle (Grosset and Dunlap, February 2010) ISBN 0-44845-227-8
Who's Haunting the White House? The President's Mansion and the Ghosts Who Live There (Sterling, September 2008) ISBN 1-4027-3822-6
Weird Massachusetts: Your Travel Guide to the Massachusetts' Local Legends and Best Kept Secrets (Sterling, May 2008) ISBN 1-4027-5437-X
The Ghost Files: Paranormal Encounters, Discussion, and Research from the Vaults of Ghostvillage.com (New Page Books, September 2007) ISBN 1-56414-974-9
Ghosts of War: Restless Spirits of Soldiers, Spies, and Saboteurs (New Page Books, September 2006) ISBN 1-56414-889-0
Our Haunted Lives: True Life Ghost Encounters (New Page Books, July 2006) ISBN 1-56414-856-4
The Nightmare Encyclopedia: Your Darkest Dreams Interpreted (New Page Books, November 2005) ISBN 1-56414-762-2
Encyclopedia of Haunted Places: Ghostly Locales From Around the World (New Page Books, August 2005) ISBN 1-56414-799-1
Communicating With the Dead: Reach Beyond the Grave (New Page Books, April 2005)
The World's Most Haunted Places: From the Secret Files of Ghostvillage.com (New Page Books, August 2004) ISBN 1-56414-793-2
External links
Edit

Template:PersondataTemplate:US-entertainer-stub Template:Para-psych-stub
Ad blocker interference detected!
Wikia is a free-to-use site that makes money from advertising. We have a modified experience for viewers using ad blockers

Wikia is not accessible if you've made further modifications. Remove the custom ad blocker rule(s) and the page will load as expected.