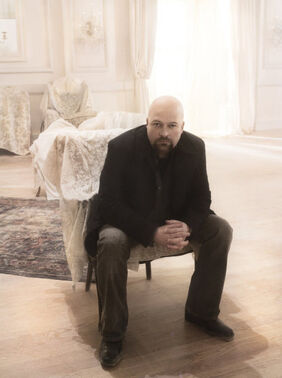 Jason Conrad Hawes
(born on December 27, 1971 in
Canandaigua, New York
) is the founder of
The Atlantic Paranormal Society
(TAPS), which is based in
Warwick, Rhode Island
. He is also one of the stars and co-producers of
Syfy
's
Ghost Hunters
, which is in its seventh season.
[1]
Personal life
Edit
He and his wife Kris have five children - three girls and twin boys. Jason's children consider Grant an adopted uncle, and Grant's kids view Jason the same way. Their wives (who are also friends) respect TAPS' mission, but keep their distance and have asked their husbands not to bring their paranormal work home.
Interests and hobbies
Edit
Hawes has varied interests outside of TAPS, including the fine arts,Template:Citation needed deep-sea fishing, competing in martial arts, camping and hiking, cooking, and he has written two books on the paranormal and four sci-fi/thriller screenplays.[2] He and fellow TAPS founder, Grant Wilson are longtime coworkers at their day job as plumbers for Roto Rooter. Hawes was the top plumber in all of New England for Roto Rooter prior to the show.Template:Citation needed The two are also co-owners of the Spalding Inn, based in Whitefield, New Hampshire.[3]
Charity work
Edit
Hawes and Wilson have used their public ghost hunting events and personal appearances to raise money for various charities, such as the Shriners Hospitals for Children and Cure Kids Cancer.[4]
Threatening e-mail
Edit
In March 2005, Barry Clinton Eckstrom, 51, of Upper St. Clair, Pennsylvania, began to send threatening e-mails to Jason Hawes, founder of TAPS. Hawes alerted the FBI in Providence. When the e-mails began to include threats against then President George W. Bush, the Secret Service became involved. Eckstrom also used Hawes's name to send e-mails to some female members of TAPS, in which he threatened to rape and murder them. While under surveillance by federal agents, Eckstrom used a Bethel Park, Pennsylvania library computer to send an e-mail in Hawes' name to Roto Rooter's Cincinnati headquarters, threatening to shoot employees there. Next, Eckstrom typed a message threatening to kill President Bush, again in Hawes' name, using the Department of Homeland Security's website. Before he could send the message, he was arrested. Because of these activities, Eckstrom was sentenced to two years in federal prison in January 2006.[5][6]
Criticism
Edit
Investigator and author Benjamin Radford reviewing Hawes's book "Ghost Hunting" writes Hawes allots a grand total of four paragraphs (within 273 pages) to a chapter titled 'The Scientific Approach'. He doesn't have much to say about science or scientific methods, and in fact it's the shortest chapter in the book.[7]
Bibliography
Edit
Ghost Hunting: True Stories of Unexplained Phenomena from The Atlantic Paranormal Society (2007) co-authored by Grant Wilson and Michael Jan Friedman[8]
Seeking Spirits: The Lost Cases of The Atlantic Paranormal Society (2009) co-authored by Grant Wilson and Michael Jan Friedman[9]
Upcoming Children's Book Series - October 2010[10]
References
Edit
External links
Edit
Ad blocker interference detected!
Wikia is a free-to-use site that makes money from advertising. We have a modified experience for viewers using ad blockers

Wikia is not accessible if you've made further modifications. Remove the custom ad blocker rule(s) and the page will load as expected.