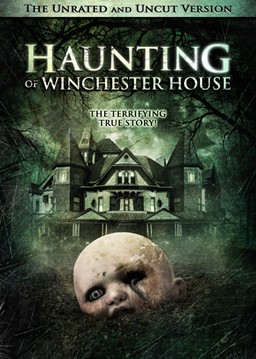 Haunting of Winchester House
is a 2009 horror film produced by The Asylum.
The film follows Susan (Lira Kellerman) and Drake (Michael Holmes), a couple who has agreed to act as caretakers of a mansion based loosely on the Winchester Mystery House in San Jose, California. Susan and Drake are relentlessly tormented by the various spirits who dwell in the house and finally turn to Harrison Dent (Tomas Boykin), a paranormal investigator whom they hope may be able to put the house's spirits to rest. Shortly following the film, Winchester Mystery House, LLC, filed a law suit for copyright infringement and the unlawful use of the Winchester name and story.
Patty Roberts (Alternate name Barry Womack) - Haley
Tomas Boykin - Harrison Dent
George Michael Lampe - Nasty Ghost
David McIntyre - Officer Cooper
Joey Ruggles - Redneck #1
Savannah Schoenecker - Margo Hunter
Sari Sheehan - Jessica Lloyd
Mitch Toles - Blind Ghost
Kimberly Trew - Girlfriend
Rob Ullett - James Clayhill
Frank Weitzel - Gunshot Ghost
Jefferson Wilmore - Civil War Ghost
Gregory Paul Smith - Faceless Ghost & Redneck #2
External links
Edit
Ad blocker interference detected!
Wikia is a free-to-use site that makes money from advertising. We have a modified experience for viewers using ad blockers

Wikia is not accessible if you've made further modifications. Remove the custom ad blocker rule(s) and the page will load as expected.