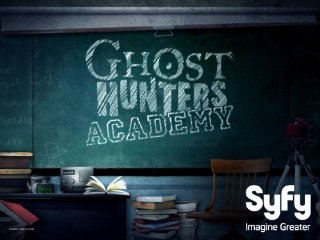 Ghost Hunters Academy
(abbreviated as
GHA
) is a
paranormal
reality
television series
that premiered on November 11, 2009 on the
Syfy
channel. The program is the third spin-off series based on
Ghost Hunters
(after
Ghost Hunters International
and
UFO Hunters
). The show features
TAPS
members Steve Gonsalves and Dave Tango as they lead a group of prospective investigators on various
ghost hunting
cases at
locations
that are allegedly
haunted
, and which had been previously investigated by TAPS.
[1]
The tagline of the show is: "Get schooled...in the paranormal."
Lead investigators
Edit
Steve Gonsalves
Dave Tango
Jason Hawes (arbitrated eliminations during season 1.5)
Investigators-in-training
Edit

Note: Although GHA was an elimination competition, no one was dismissed during episodes 1, 2 and 4. Jane Riley was brought in episode 3 where Heathyr Hoffman was the first to be eliminated. In episode 5, Chris McCune quit the competition on his own. Jane Riley was dismissed episode 6. Chris Smith (who was brought in episode 5) and Ben Smith (who was in all the first six episodes), were both invited back to continue training for season 1.5, but they did not return. Instead, eight new cadets were brought in for season 1.5 and a regular cadet elimination process was held each episode from then on.
List of episodes
Edit
Season one (2009–2010)
Edit
Ep#
Original Airdate
Episode Title
Investigation
101 (1)
November 11, 2009
Web of Deceit
Philadelphia, Pennsylvania - Fort Mifflin
102 (2)
November 18, 2009
The Honeymoon's Over
Wilmington, North Carolina - USS North Carolina Museum
103 (3)
November 25, 2009
Back to Basics
Philadelphia, Pennsylvania - Eastern State Penitentiary
104 (4)
December 2, 2009
Drama Queen
Buffalo, New York - Buffalo Central Terminal
105 (5)
December 9, 2009
The Blame Game
St. Augustine, Florida - St. Augustine Light
106 (6)
December 16, 2009
Final Exams
Cedar Grove, New Jersey - Essex County Hospital
107 (7)
June 2, 2010
The New Class
Louisville. Kentucky - Waverly Hills Sanatorium
108 (8)
June 9, 2010
Crazy For Power
Weston, West Virginia - Trans-Allegheny Lunatic Asylum
109 (9)
June 16, 2010
Dissension In the Ranks
Hartford, Connecticut - Mark Twain House
110 (10)
June 23, 2010
Island Castaway
Pea Patch Island, Delaware - Fort Delaware
111 (11)
June 30, 2010
Schooled at Shawshank
Mansfield, Ohio - Mansfield Reformatory
112 (12)
July 7, 2010
Finals at the Stanley Hotel
Estes Park, Colorado - The Stanley Hotel
References
Edit
External links
Edit