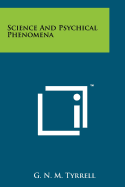 George Nugent Merle Tyrrell
(1879-1952) was a
mathematician
,
physicist
, radio engineer
[1]
and
parapsychologist
.
[2]
Biography
Edit
Tyrell was a student of the Guglielmo Marconi Foundation where he was a pioneer in developmental radio. He joined the Society for Psychical Research in 1908. He undertook extensive experiments in telepathy. According to (Drury, 2004) "Tyrell came to believe that ghosts were "subjective" and "telepathic", and existed in regions of the human personality outside of the field of normal consciousness." Drury further writes that Tyrell attempted to merge the supernatural into a psychological theory.[3]

According to Harry Price Tyrell had claimed to of proven telepathy under scientifically controlled conditions but his results had not been tested independently by scientific workers.[4]

Tyrrell rejected the idea that a ghost is an entity of a dead person and instead accepted that it is an hallucination from the subconscious mind of a person, to explain collective hallucinations for more than one person he proposed a telepathic mechanism.[5][6] Tyrell was the present of the Society for Psychical Research in 1945-1946.

The term out-of-body experience was introduced in 1943 by Tyrrell in his book Apparitions.[7]
Works published
Edit
Science and Psychical Phenomena (1938)
The Personality of Man (1946)
References
Edit