Father Bob BaileyEdit
'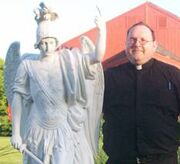 Father Bob Bailey is a native of Cranston, Rhode Island and is a Roman Catholic priest and pastor in Rhode Island. Father Bailey was ordained to the priesthood for the Diocese of Providence in 1993.
Besides tending to his flock at his parish, he is also Chaplain to the Smithfield Fire Dept. and Spiritual Director for the World Apostolate of Fatima. Father Bailey also has a monthly healing and liberation Liturgy at his parish.
Having a interest in the paranormal since childhood, Father Bailey began to feel a calling to assist those in the area of paranormal research with his priesthood. He felt that the Church and the Catholic Faith could bring some ages-old wisdom and spiritual authority to the table in the area of the demonic. He's been well received with gratitude and eagerness since he's stepped out in this area (with the permission of my Bishop).
His friendship with Ryan Buell of PRS and his work with him on various Paranormal State episodes has given him both experience and exposure along with credibility in the paranormal field. He's also been contacted by some paranormal groups in the local area for spiritual assistance. Because of this, he's had numerous requests in his local area by both individuals as well as paranormal investigators for assistance.
The need became such that he founded a ministry along with assistant Rob Jacobs and case manager Teresa Jacobs (The Praesidium Warriors of St. Michael-PWSM) and a website (PWSM-ri.org) to be at the service of investigators and individuals who may encounter negative or demonic forces by way of education and training in spiritual warfare to the ordained or committed Christian laypeople in the absence of clergy. Those whom he networks with share a deep faith.
Besides having been a Guest on Paranormal State episodes, He also worked with Lorraine Warren, Michelle Belanger and Ryan Buell (as a spiritual advisor to PRS). Father Bailey also appeared on such TV Programs as Ghosts R Near, Animal Planet's The Haunted as well as Haunted Happenings (now called Confronting The a Darkness- a talk show found on YouTube). He has also been a guest on such radio shows as Sheen LATalk Radio, Paranormal Insider, Behind the Paranormal and SHOK Radio and Anomalies Radio Talk Show, to name a few.
External LinksEdit