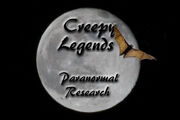 Creepy Legends Paranormal Research is a research team out of Columbus, Indiana. Founder: Chris McDaniel and Co-founder Vonda McDaniel.
Chris has experienced numerious paranormal events throughout his life dating back in his childhood. In his adult years he began reflecting on these experiences and began investigating on his own searching for answers and a better understanding.
Chris began investigating claims from cryptids to hauntings in 1999. Chris has written a book about his paranormal experiences titled, "Falling Down The Rabbit's Hole"
Chris has received certifications in Paranormal, Hauntings and Cryptids.
Vonda, Co-founder and Chris' wife, was a skeptic to paranormal claims until she began investigating along with Chris and experienced paranormal events first hand.
Together they formed their own paranormal team Creepy Legends Paranormal Research.
Creepy Legends is a team based on integrity that investigates only to reveal. The team does not perform cleansing. Chris and Vonda share the same view that hauntings, other than demonic, are spirits of people that were once as others within this life. They approach each haunting with respect for the individual(s) who have passed on. Based on this concept they will avoid provoking a spirit for activity, "Dead or alive...I wouldn't want someone coming into my house or my space pissing me off just so they can gain evidence of my existence." states Chris. With this approach they have been very successful in having spirits willfully interact with the team.
The team is very open with their research and is willing to share their experiences with other paranormal teams and the public. It is Chris' view that paranormal research is a plausible science and should be viewed as such, "...therefore we will do our part in showing the public our evidence with the goal that one day paranormal research can be viewed as a scientific issue without the skepticism." remarks Chris.
One can follow the team on Creepy Legends Paranormal Research Facebook page and mark "Like" for their support for the team.
Webpage: creepylegends.yolasite.com
Creepy Legends is a family member of the PAST Family network
Creepy Legends has their own show based on PTVN Past-TV network shown on Wednesday nights at 8:35pm.
Message from the Founder and Co-founder of Creepy Legends: Thank you for your support.
Ad blocker interference detected!
Wikia is a free-to-use site that makes money from advertising. We have a modified experience for viewers using ad blockers

Wikia is not accessible if you've made further modifications. Remove the custom ad blocker rule(s) and the page will load as expected.