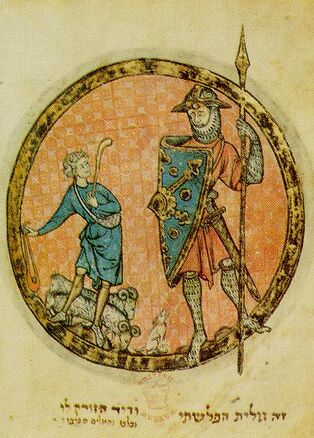 Jewish folklore
consists of the folk tales and
legends
that existed in the general Jewish culture. There is very little early
folklore
distinct from the
aggadah
literature. However,
mythology
and folklore has survived and expanded among the Jewish people in all eras of its history.
In ancient folktales
Edit
Jewish folktales were those stories usually containing incidents of a superhuman character, spread among the folk either by traditions from their elders or by communication from strangers. Folktales are characterized by the presence of unusual personages (dwarfs, giants, fairies, ghosts, etc.), by the sudden transformation of men into beasts and vice versa, or by other unnatural incidents (flying horses, a hundred years' sleep, and the like). Of a similar kind are the drolls of the nursery, generally consisting of a number of simple "sells." A number of haggadic stories bear folktale characteristics, especially those relating to Og, King of Bashan, which have the same exaggerations as have the "Lügenmärchen" of modern German folktales[8] There are signs that a certain number of fables were adopted by the Rabbis either from Greek or, indirectly, from Persian and Indian sources.
In the Middle Ages
Edit
There is considerable evidence of Jewish people helping the spread of Eastern folk-tales in Europe.[9] Besides these tales from foreign sources, Jews either collected or composed others which were told throughout the European ghettos, and were collected in Yiddish in the "Maasebücher".[9] Numbers of the folktales contained in these collections were also published separately.[10] It is, however, difficult to call many of them folktales in the sense given above, since nothing fairy-like or supernormal occurs in them.[9]
There are a few definitely Jewish legends of the Middle Ages which partake of the character of folktales, such as those of the Jewish pope Andreas and of the golem, or that relating to the wall of the Rashi chapel, which moved backward in order to save the life of a poor woman who was in danger of being crushed by a passing carriage in the narrow way. Several of these legends were collected by Tendlau ("Sagen und Legenden der Jüdischen Vorzeit").
In the late 19th century many folk-tales were gathered among Jews or published from Hebrew manuscripts by Israel Lévi in "Revue des Etudes Juives," in "Revue des Traditions Populaires," and in "Melusine "; by M. Gaster in "Folk-Lore" and in the reports of Montefiore College; and by M. Grunwald in "Mitteilungen der Gesellschaft für Jüdische Volkskunde";[11] by L. Wiener in the same periodical; and by F. S. Krauss in "Urquell," both series.
Altogether some sixty or seventy folk-tales have been found among Jews of the present day; but in scarcely a single case is there anything specifically Jewish about the stories, while in most cases they can be traced back to folk-tales current among the surrounding peoples. Thus the story of "Kunz and His Shepherd"[12] occurs in English as "King John and the Abbot of Canterbury"; and "The Magician's Pupil"[13] is also found widely spread. The well-known story of the "Language of Birds," which has been studied by Frazer,[14] is given in "Mitteilungen," i. 77. No. 4 in the collection of Wiener is the widespread folk-tale of "The Giant's Daughter," which some have traced back to the legend of Medea. Two of the stories collected by Grunwald, No. 13, "The Birds of Ibycus," and No. 14, "The Ring of Polycrates," appear to be traceable to classical sources; while his No. 4 gives the well-known episode of the "Thankful Beasts," which Theodor Benfey traced across Europe through India.[15] Even in the tales having a comic termination and known to the folk-lorists as drolls, there are no signs of Jewish originality. The first of the stories collected by Wiener is the well-known "Man in the Sack," who gets out of his difficulties by telling passers-by that he has been unwillingly condemned to marry a princess.
Aggadah and folklore compilations
Edit
References
Edit
Jewish Encyclopedia. Ed. Cyrus Adler, et al. 22 May 2008 JewishEncyclopedia.com.
Armstrong, Karen. A Short History of Myth. NY: Canongate, 2005.
Ausubel, Nathan, ed. A Treasury of Jewish Folklore: The Stories, Traditions, Legends, Humor, and Wisdom of the Jewish People NY: Crown Publishers, 1990.
Campbell, Joseph. The Masks of God: Occidental Mythology. NY: Penguin Compass, 1991.
Dennis, Geoffrey. The Encyclopedia of Jewish Myth, Magic, and Mysticism. MN: Llewellyn Worldwide, 2007.
Eliade, Mircea.

A History of Religious Ideas. Vol. 1. Trans. Willard R. Trask. Chicago: University of Chicago Press, 1978.
Myth and Reality. New York: Harper & Row, 1968.
Myths, Dreams and Mysteries. New York: Harper & Row, 1967.

Irwin, William A. "The Hebrews". (Frankfort et al. The Intellectual Adventure of Ancient Man. Chicago: University of Chicago Press, 1977. pp. 221–360.)
Mimekor Yisrael: Classical Jewish Folktales, Micha Joseph bin Gorion, translated by I. M. Lask, Trans. Three volumes. Bloomington, Indiana University Press, 1976
Mimekor Yisrael: Classical Jewish Folktales Abridged and Annotated Edition Micha Joseph bin Gorion. This is a one volume abridged and annotated version, with an introduction and headnotes, by Dan Ben-Amos. Indiana University Press, 1990. ISBN 0-253-31158-6.
Folktales of Israel Ed. Dov Noy, with the assistance of Dan Ben-Amos. Chicago: Chicago University Press, 1963
Jewish Folktales from Morocco, Ed. Dov Noy, Jerusalem, 1964.
Jewish Folktales from Tunisia, Ed. Dov Noy, Jerusalem, 1964.
"Hebrew Parallels to Indian Folktales," Journal of the Assam Research Society, 15 (1963), pp. 37–45.
Magoulick, Mary. "What is Myth?" Folklore Connections. Georgia College State University, 22 May 2008 .
McGinn, Bernard. Antichrist: Two Thousand Years of the Human Fascination with Evil. NY: HarperCollins, 1994.
Mintz, Jerome R. Legends of the Hasidim: An Introduction to Hasidic Culture and Oral Tradition in the New World Chicago: Chicago University Press, 1968
Four Master Folklorists And Their Major Contributions Peninnah Schram, from Opening Worlds of Words, Peninnah Schram and Cherie Karo Schwartz
Segal, Robert A. Myth: A Very Short Introduction. Oxford: Oxford University Press, 2004.
Zong In-Sob. Folk Tales From Korea. Elizabeth: Hollym International, 1982.
Graves, Robert, "Introduction," New Larousse Encyclopedia of Mythology (trans. Richard Aldington and Delano Ames), London: Hamlyn, 1968, pp. v-viii.
The Epic of Gilgamesh. Trans. N.K. Sandars. NY: Penguin, 1960.
Classical Hindu Mythology. Ed. and trans. Cornelia Dimmitt and J.A.B. van Buitenen. Philadelphia: Temple University Press, 1978.
New American Bible. St Joseph Edition. NY: Catholic Publishing Co. (Used as a source for some scholarly information on comparative mythology found in its footnotes.)
Harris, Robert, Virtual Salt: A Glossary of Literary Terms 2002.
Leaves from the Garden of Eden: One Hundred Classic Jewish Tales. Edited by Howard Schwartz. New York, OUP USA, 2008, 540 pp.
Further reading
Edit
Ad blocker interference detected!
Wikia is a free-to-use site that makes money from advertising. We have a modified experience for viewers using ad blockers

Wikia is not accessible if you've made further modifications. Remove the custom ad blocker rule(s) and the page will load as expected.