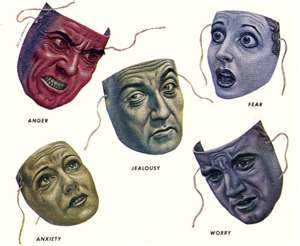 Human emotions are
complex
. They express positive or negative reactions to external and internal stimuli. According to modern
psychology
, emotion,
behavior
and
cognition
influence each other. Thus, each emotion distinctly affects human motivation, nervous function, learning, physical acts, physiological arousal and communication with others. Sadness, for instance, is an emotion that causes a person to cry and withdraw from social circles, while surprise is an emotion that causes a person to sigh and raise their eyebrows, and the emotion of anger causes trembling and aggressive behavior.
Robert Plutchik, Paul Ekman, Wallace Friesen, Carrol Izard and Silvan Tomkins are among the names that have made significant contributions to the study and classification of human emotions. They believe that certain emotions are basic or primary. According to respected psychologist Paul Ekman, the basic emotions are: sadness, happiness, anger, fear, disgust, and surprise. These emotions combine in different ways to form other emotions, including compassion, boredom, embarrassment, rage, hunger, and more.
Through their studies, Plutchik and Ekman confirmed the evolutionary nature of emotions, a topic previously discussed in detail by Charles Darwin. Like Darwin, Plutchik believed that emotions evolved for the sake of human survival and reproduction. Ekman agreed with Darwin, as well: After studying an isolated tribe in Papua New Guinea, he concluded that some emotions are universal and innate. Research like this proves that emotions affect and shape the essence of life for mankind. It is no wonder that psychology, neuroscience,ethics, sociology, and metaphysics, among other fields, all deal with the study of human emotions.
Positive Human Emotions:Edit
Glad
Happy
Delighted
Joyful
Elated
Thrilled
Exhilarated

Hopeful
Expectant
Relieved
Satisfied
Assured
Certain

Able
Capable
Confident
Strong
Courageous
Powerful

Adequate
Good
Great
Excellent
Sublime
Comfortable
Relaxed
Pleasant
Peaceful
Pleasure

Eager
Surprised
Excited
Lively
Enthusiastic

Stable
Positive
Superior
Magnificent
Glorious

Interested
Fascinated
Awe
Inspired
Other positive emotions:Edit
Beautiful
Charmed
Cheerful

Contented
Determined
Energetic

Glamorous
Graceful
Grateful

Humorous
Playfulness
Pride
Negative Human Emotions:Edit
Concerned
Worry
Anxious
Stressed
Overwhelmed
Exasperated

Tired
Burdened
Weary
Exhausted
Drained

Jumpy
Intimidated
Apprehensive
Hostile
Destructive

Uncomfortable
Annoyed
Frustrated
Angry
In rage
Indifferent
Ignored
Contempt
Rude
Obnoxious

Sad
Depressed
Grief
Agony
Misery

Cautious
Doubtful
Hesitant
Wary
Suspicious

Nervous
Scared
Fear
Shocked
Panic

Dissatisfied
Upset
Disappointed
Crushed
Other negative emotions:Edit
Confused
Disgusted
Embarrassment
Envy

Greed
Guilt
Harassed
Humiliation

Jealousy
Manipulated
Pressured
Regret

Remorse
Revenge
Shame
Wasteful
Pages in category "Emotions"
Ad blocker interference detected!
Wikia is a free-to-use site that makes money from advertising. We have a modified experience for viewers using ad blockers

Wikia is not accessible if you've made further modifications. Remove the custom ad blocker rule(s) and the page will load as expected.