Brad KlingeEdit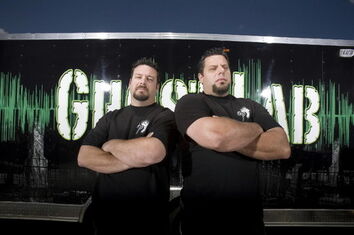 Brad was born and raised in the Universal City/Schertz area, just outside San Antonio, Texas. He is a 1996 graduate of Southwest Texas State University, with a major in business and a minor in broadcast journalism.
Everyday Paranormal
is Brad's full-time job and career. He has always had an interest in the supernatural, and that multiplied tenfold in the summer of 1990, when he was able to witness and film one of the most phenomenal supernatural events ever recorded — an actual ghost regiment. This experience was the driving force behind Brad's decision to form Everyday Paranormal in October 20007. His goal is to take supernatural investigation to a new level with common-sense theories and techniques that so far have led to extraordinary paranormal evidence.
And to discover ghosts!!!!
Barry Klinge Edit
Barry was born in Denver, Colorado, and moved to Texas when he was 6 months old. He is Brad's older brother and has lived in the Universal City/Schertz area, near San Antonio, all his life, with a brief stint in the U.S. Navy during the first Gulf War. He worked as a paramedic for 12 years, before graduating in 2006 from the University of Texas at San Antonio with a bachelor's degree in kinesiology (physical education). Barry has always had an interest in the supernatural. After experiencing many personal encounters over the years, he jumped at the opportunity to conduct professional and scientific research with his brother, Brad, as his full-time job and career. Barry also acts as case manager and does most of the client screening and scheduling.
External LinksEdit
Ad blocker interference detected!
Wikia is a free-to-use site that makes money from advertising. We have a modified experience for viewers using ad blockers

Wikia is not accessible if you've made further modifications. Remove the custom ad blocker rule(s) and the page will load as expected.